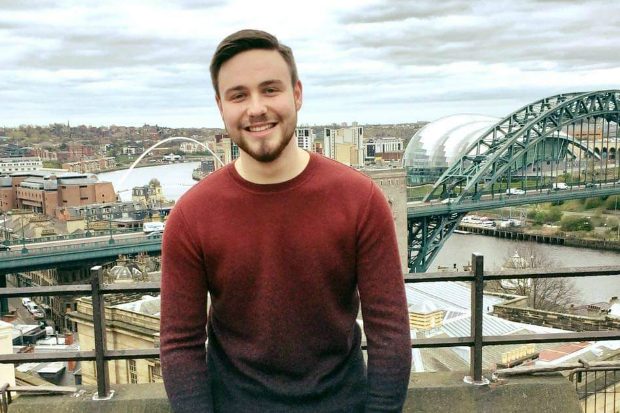 Q: Tell us a little bit about yourself
A: I graduated in 2018 and I moved back up to South Tyneside to return as a carer for my father who has severe epilepsy. I studied Politics at the University of York and politics has always been something that I have had a keen interest in; always wanting to understand the way society works and interacts. 
Q: What are you like outside of work?
A: There is no greater Star Wars Battlefront player than me, I'm a dab-hand at flying the Millennium Falcon. In all seriousness, I am a big sci-fi fan and I enjoy watching films, TV shows and playing games around the genre. 
I have a hamster called Cyril (seriously it wasn't me who chose the name) but he definitely reflects my love of animals and nature. Also, I  thoroughly enjoy cooking and will always try my best to improve a recipe or to make a whole new one up. 
Q: Describe the Fast Stream in one sentence?
A: The only future talent and leadership scheme that allows you to become a leader of something far greater; delivering the best we can for all people.

Q: What are the three best things about the Fast Stream?
A: Unknown talents becoming known, a sense of purpose and belonging and supportive and inclusive employers.
Q: What interested you to apply for the Civil Service Fast Stream programme?
A: I studied Politics at the University of York and politics has always been something that I have had a keen interest in; always wanting to understand the way society works and interacts. 
My mother and step-father, who worked in the NHS and Police respectively, always believed passionately in the contributions and commitment that the public sector gives for people living in the UK and beyond. The Civil Service always attracted me based upon that ethos and the Fast Stream was the perfect fit for a career. 
Q: What attracted you to the programme and the particular stream that you applied for?
A: It was also a very attractive graduate programme to apply for in terms of the development and skills. In security terms, the Fast Stream also offers to join the Civil Service in a leadership role.  
It's an organisation that offers attractive salaries and a more long-term job security. Although not the primary reason, it's still something that should be commended about the Fast Stream for younger people starting their career or for those that are looking to try something new.
Q: Please share your experience with the Fast Stream so far?
A: During the application process, I doubted my application at intervals over concerns of being able to join the Fast Stream whilst still being a carer. I sought out all the available information about the support that the Fast Stream offered to people in a similar situation to me. 
I was surprised at the support and flexibility that was offered by the Fast Stream and it really made me feel secure as I went through the rest of the application. I was buoyed by the support structures available and I knew that this was something that would not hinder me as I sought a career in the Civil Service. 
I am now proudly working on complex and large projects like leading and designing an HR tool called the Cultural Maturity Model (CMM). Alongside the CMM, I have collaborated with the Regional Implementation Group in identifying cultural gaps and develop a strategy to assist staff with regional moves.
Q: What is your ultimate aim or career ambition after you complete the programme?
A: My ultimate aim is to establish myself as a Senior Civil Servant that leads people to deliver the best outcomes for the people we represent. I would love to work in a department that is heavily involved in the social issues facing the UK; departments such as Health and Social Care, Education, Justice and others. However, all departments within the Civil Service play their role in delivering the best for those we represent.
Q: How does the Fast Stream make you feel?
A: Filled with pride and constantly feeling enamored with support and development. 
Q: What advice would you give to someone considering applying to the Fast Stream?
A: Be authentic. I often got worried that I'd have to pretend to be someone else, someone with more experience or more of a flashy sounding CV. In reality, it's about the kind of future leader you will become and inspire others to become in the Civil Service. 
So, whether you've worked at KFC like me or worked as a career professional, it's important to be authentic in your character and skills and the Fast Stream will always value your contributions.