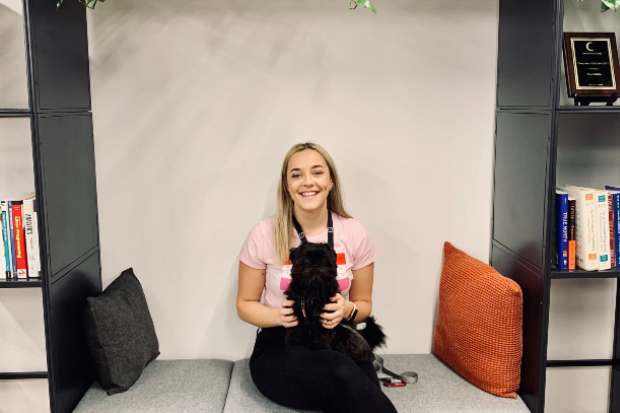 Q: Tell us a little bit about yourself.
A: I graduated in 2018 from the University of Birmingham with a degree in Political Science and I'm in my 2nd year of the Civil Service Fast Stream, Project Delivery scheme based in London!
Q: Describe the Fast Stream in one sentence
A: Unlimited opportunity to make a difference. 
Q: What are the three best things about the Fast Stream?
A: First is the variety of opportunities - I love that Fast Streamers rotate departments and gain experience across areas that I potentially wouldn't have initially considered myself. When I found out my first posting was in Rail Infrastructure at the Department for Transport I wasn't massively excited as it's not something I thought I would like but I ended up loving it.
Second is the people - Having a network of other Fast Streamers across government is hugely valuable. Not only is it a great support network but also gives you good connections across every department. 
Third is the responsibility - Fast Streamers are given a lot of responsibility very early on which can be quite daunting but ultimately means you're constantly learning and developing. 
Q: What interested you to apply for the Civil Service Fast Stream programme?
A: Having studied politics I was very interested in a career where I would be making a difference to people's lives and party politics wasn't my thing. The Civil Service offers the best of both worlds where you're working for the government, impartially, to make a difference across the whole of society.  
Q: What attracted you to the particular stream that you applied for?
A:  I wasn't initially drawn to Project Delivery but it's such an underrated scheme!! It's an ever-growing profession with very well established career paths and development opportunities. We get to work on major government projects that deliver huge improvements to people's lives. I love that I can say I was a part of it.
Q: Please share your experience with the Fast Stream so far?
A: My first role was in the Department for Transport in London. I spent a year as a Project Manager on a £3bn rail infrastructure programme which was a complex and demanding role. This was a high profile programme on the Government Major Project Portfolio (GMPP) and gave me experience with waterfall project methodology, working closely with ministers, and managing senior stakeholders. 
My current post is a 6th month secondment to an innovative technology company, Improbable. Here I'm working as a Delivery Manager on a defence project. This posting is the polar opposite of my first; an agile project methodology, defence, tech, and in the private sector. This has been a hugely challenging post due to my limited experience in any of the above but to be given this opportunity regardless of my experience is what makes the Fast Stream so great.
Learning how to manage agile projects in the private sector has been extremely insightful and is invaluable for building a breadth of project delivery experience.  The culture here is also very different (e.g. dogs in the office!!) with very little hierarchy and values such as aim for the impossible. It's taught me a lot about leadership, importance of culture, and teamwork that I hope I can emulate throughout my career. 
My 3rd post, 6 months in a complimentary profession (policy, finance, commercial or operations), will be in the Department for Business, Energy and Industrial Strategy. It's crazy how much variety I will have experienced by the end of 2 years and I can't wait to see what's next.
Q: What advice would you give to someone else considering applying to the Civil Service Fast Stream programme?
A:  I would stress to utilise the services available at University. At the University of Birmingham the Careers Network offered loads of helpful services when applying such as help prepping for video interviews . Also look out for Civil Service Fast Stream events on campus and brush up on the Civil service success profiles!