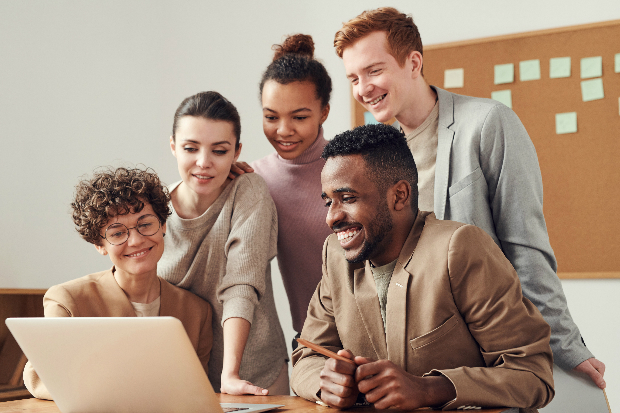 The Fast Stream is of course a job, but it's also a community! Every year the programme welcomes a large and diverse cohort of graduates, and these colleagues quickly become your friends thanks to all the training, social and volunteering opportunities that bring you together outside of your day job. 
For example, I regularly meet up with a group of Fast Streamers I was teamed with at our induction event. We talk about life both inside and outside of work and give each other advice, but it's also really lovely to just chat and have a laugh with friends. Having studied French at university, I've also joined the Fast Stream French network to join forces with fellow Francophiles – we plan French-themed outings, have discussions in French and bond over a mutual love of croissants. 
The Fast Stream community also gives you access to an enormous range of extracurricular activities, which I find to be a great way of enriching my day-to-day work and developing additional skills. I'm currently working with the mental health charity Mind to support the wellbeing of graduates as they transition into the workplace, and last year I did lots of really rewarding voluntary work.
This ranged from spending time preparing food for the homeless with the Whitechapel Centre in Liverpool, to leading social mobility workshops for young people at Old Trafford football stadium. I also work with the Charity for Civil Servants to promote their comprehensive offer in terms of wellbeing, financial and personal support. This has put me in touch with yet another group of fun and hardworking people that welcome fast streamers with open arms. 
The possibilities that flow from the Fast Stream community are endless – there's a network for every interest and volunteering work galore, so you really can make the most of your time on the scheme. Best of all, you do it with a supportive, talented and friendly cohort of Fast Streamers who will be an important part of your network throughout your Civil Service career.