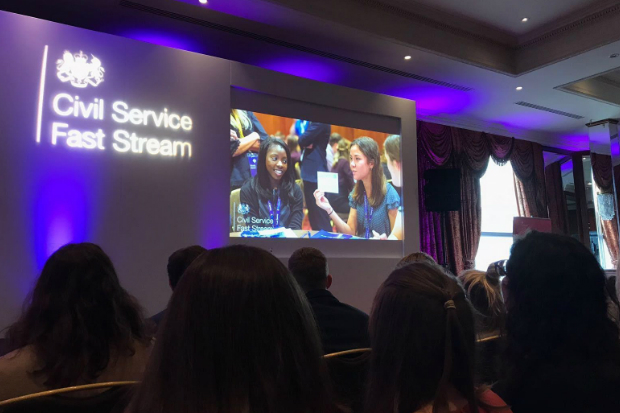 Q: Tell us a little bit about yourself.
A: I'm Lisa, a second-year Generalist Fast Streamer. I did the Summer Diversity Internship Programme (SDIP) in my second year of university. This was at the Department of Health, I worked on children and young peoples' mental health policy. I then went on to do the Teach First Leadership Development Programme for two years, before joining the Civil Service. 
Q: Where is your current posting and please outline your responsibilities?
A: My current posting is at the Ministry of Justice working on legal services policy. I advise on the EU Exit policy related to the trade of legal services. I work on policy development and analysis.
Q: What excites you the most about your current role?
A: It's really exciting working in an area that is all over the news every day! 
Q: What are the key skills you have developed working on the Fast Stream programme?
A: The Fast Stream develops your skills to adapt and be effective in a role quickly. Fast Streamers are placed in an area they may not have had any previous experience. They quickly have to adapt to be effective and successful in this role. I've found this skill very useful, sometimes you need to be pushed outside your comfort zone to find out what you are capable of.
Q: What has been your biggest personal achievement since you joined the Fast Stream?
A: I mentored a SDIP participant- it was incredibly rewarding helping her to develop her own skills over the 6-week placement. I had a supportive Fast Stream mentor when I was an intern and this was a fantastic opportunity to be on the other side of that.  
Q: What are the key challenges involved in your current role?
A: It is quite a technical area. There was a lot to learn when I started. I found this challenging at first, but everyone in my team was very patient and supportive whilst I got to grips with the details.
Q: How would you describe the work culture within your department?
A: It's a lovely environment to work in. There's a great sense of comradery and support within the department. 
Q: What kind of support have you received from your team members and manager to effectively deliver your role?
A: My team is very friendly and I can always ask them for help. My manager and I meet regularly to talk about my development and objectives. 
Q: What learning and development opportunities have you gained after joining the Fast Stream?
A: There's so much going on. There is formal training organised by the Fast Stream, which gives you an opportunity to meet other Fast Streamers outside of your department. There are also informal sessions in departments which I really enjoy because you get to hear directly from your colleagues on their Civil Service experience.
Q: How have you benefited from different postings as part of the Fast Stream programme?
A: My roles have been very different. Previously, I was at the Department of Business, Energy and Industrial Strategy in a project-management type role whereas my current role is in policy. I've found this variety valuable as I have been able to gain different skills and develop an understanding of how various functions within the Civil Service fit together. This is the best thing about being a Generalist Fast Streamer - you get the chance to experience so many different things.
Visit faststream.gov.uk for more information on the Fast Stream.