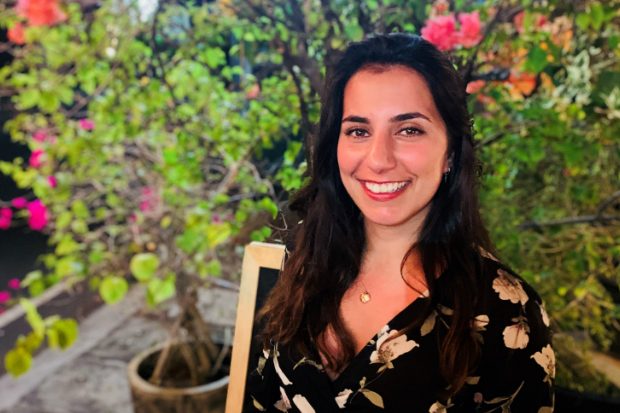 Q: Tell us a little bit about yourself
A: I'm a recent graduate from the University of Warwick, having studied French with International Studies, with a year abroad in Brussels. I had initially wanted to work in the European institutions, but following the 2016 referendum, I decided that the Foreign and Commonwealth Office would provide me with an even greater opportunity for working internationally and gaining experience of countries further afield than Europe. 
As a language student, the thought of a job where I could be paid to learn and use foreign languages on a daily basis was a dream come true. I had over a year's experience in the Department of International Trade before starting the Diplomatic Scheme, which offered me a valuable insight into the Civil Service. 
Q: What are you like outside of work?
A: I am a real foodie, always looking to discover new cuisines and restaurants. This will be a big driver in any future posting I go on! At home, I love to cook and I find any opportunity to turn this into a social occasion with friends and family. 
To compensate for my healthy appetite, I enjoy the gym, netball and have recently discovered bouldering as I find ways to conquer my fear of heights. In my downtime, I like to keep up my French, whether this is through watching French films or series, and try not to confuse it with Spanish, which I have recently started learning. 
Q: Describe the Fast Stream in one sentence?
A: An unrivalled scheme across government providing challenging and eye-opening roles to inspire the next generation of future leaders. 
Q: What are the three best things about the Fast Stream?
A: Strong sense of community not only within streams but also cross-stream, a wide variety of roles that you will never get bored of, a strong focus on wellbeing and a nice place to work.
Q: What interested you to apply for the Civil Service Fast Stream programme?
A: In the summer before my final year as an undergraduate, I had the opportunity to intern at HMRC on the SDIP programme. The SDIP scheme was built quite substantially around preparing interns to go onward and apply for the Fast Stream, offering panel discussions with current fast streamers and FSAC coaching sessions. I would definitely recommend the SDIP to those who are eligible- it's a great foot in the door.
When I decided that applying was the right thing for me, I was unsuccessful on my first attempt and offered a Direct Appointments role in the Department for International Trade instead. In retrospect, I would not change that, it taught me a lot and I loved the job. 
It provided a valuable opportunity to hear more from colleagues about their previous jobs and further spurred my interest in the opportunities in the Civil Service, especially those relating to international affairs. 
Q: What attracted you to the programme and the particular stream that you applied for?
A: Working in the Department for International Trade taught me that there are two key things that motivate me to come to work: international affairs and working with colleagues that are passionate about their jobs. The Diplomatic Scheme fit this bill. 
The opportunity to learn foreign languages also drew me in, as did the chance to explore new countries and understand their cultural nuances. 
Q: Please share your experience with the Fast Stream so far?
A: My experience on the Civil Service Fast Stream so far has been nothing but positive. From the day that I joined, I realised how fortunate I was to be joining a cohort of peers who could call on each other for support when navigating the inevitably tricky parts of starting a new job. 
This sense of community has remained throughout, even allowing me to travel to Nigeria with another Fast Streamer and experience life in the posting together. The tailored induction programme delivered by the Diplomatic Academy has also been a unique benefit to joining the Foreign and Commonwealth Office through the Fast Stream, where we had the opportunity to learn collectively and hear from senior management from the outset. 
Joining through the Fast Stream has also given me the opportunity to experience two roles in the short space of two years, another unique aspect of the Fast Stream which allows you to build different skillsets and learn to be quickly adaptable.
Q: What is your ultimate aim or career ambition after you complete the programme?
A: To be a multilingual ambassador! 
Q: How does the Fast Stream make you feel?
A: Fortunate to be working on issues that make the papers. 
Q: What advice would you give to someone interested in applying for the Civil Service Fast Stream programme?
A: My advice would be to do your research and 'due diligence'.I would recommend reaching out to anyone you know in the Civil Service and speaking to current Fast Streamers. Career fairs, channels such as LinkedIn and programmes like the SDIP can be really helpful for this. 
When you really have an understanding of what the job entails, it becomes a lot easier to explain why you want the job. Just be yourself, don't mould yourself to any perceived stereotype and think hard about what makes you different and why that's a positive thing for the Civil Service.