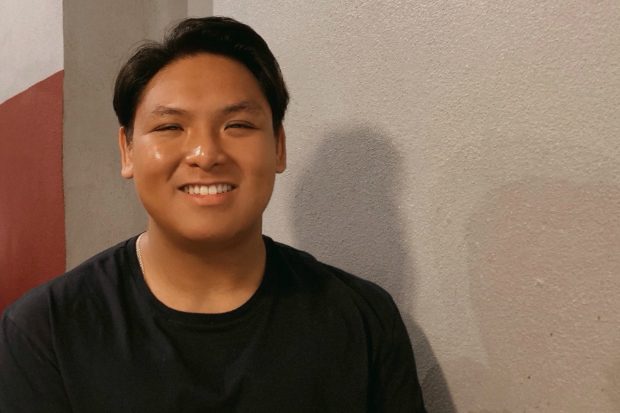 Q: Tell us a little bit about yourself. 
A: I grew up in East London, where I was raised and educated. I graduated in BA Political Economy from Kings College.I had built my education and work experience towards a career in investment banking, but realised I wanted a career more fulfilling and less mundane.  
So, I decided to apply for the Fast Stream. Money was no longer the sole driver of my career, and I wanted a career where I could make a positive impact on communities at home and overseas. 
After I graduated, I did some volunteer work for CAFOD aiding their Public Policy Team on "green and sustainable employment in developing countries", and later helped to set up a small grassroots organisation called "Seize the Vote", a graduate-led organisation in East London that runs events to help inform and facilitate discussion / debates around political topics for young people in safe spaces. 
Q: What are you like outside of work?
A: There are a range of activities / passions I dabble in outside of work. I've loved public speaking from a young age and I have been taking part in public speaking competitions and participating in Model UN and talking on paneIs. I'm also into Crossfit and Power Pump. 
These have helped me to build a community outside of my friends and family and push me to be better physically and mentally. In addition, I'm a professional choreographer of Latin and RnB and a coffee connoisseur. 
Q: Describe the Fast Stream in one sentence
A: Exciting, like a rollercoaster - every time you think the ride is about to end, another unexpected turn is waiting for you. 
Q: What are the three best things about the Fast Stream?
A: The variety of opportunities available on the Fast Stream, the time and investment the Civil Service puts into Fast Streamers' development, and the prospect of making real, positive impacts on people's lives. 
Q: What interested you to apply for the Civil Service Fast Stream programme?
A: At the age of 18, I wanted to build a career within the corporate world. As an ambitious young boy, I tailored my GCSEs, A Levels, Bachelor's Degree and work experience towards being a Trader. In Year 13, I got into an exclusive programme which would guarantee me a position within a Top 10 investment bank by the time I graduated. 
This was arguably the dream for me and my traditional parents. However, after two summer internships working for this investment bank, I soon realised that investment banking was not for me. 
In my second year of university, I made it onto a university summer internship programme in Washington DC, spending three months supporting a private NGO named the Fulbright Association, lobbying Congress to fund international scholarships to students who wanted to attend American universities. 
During these three months, I had the privilege to meet a British Diplomat/ Economist at the British Embassy in Washington DC, where he first suggested the Fast Stream Programme to me. 
The following summer, I applied and successfully got onto the Civil Service Summer Diversity Internship Programme, where I had the opportunity to intern for the FCO. This experience allowed me to realise the wide breadth of careers within the Civil Service and showed me not all careers are mundane or necessarily mean that you have to be glued to a computer screen. 
Q: What attracted you to the programme and the particular stream that you applied for?
A: By the time I was 20, I came to the quick realisation that I needed a career where I wasn't boxed into a particular skills set from an early age and I did not want to be stuck doing spreadsheets on a computer from 7am until 9pm. I needed variety in experience and a work-life balance, and that's how I found myself applying for the Civil Service Fast Stream.  
What I found particularly attractive about the programme, and specifically the Generalist Stream, is the diversity of roles available to Fast Streamers. This scheme allows me to explore a wide range of roles and subject-matters, some of which I never thought existed, and enables me to find where I can best contribute my strengths. 
Q: Please share your experience with the Fast Stream so far?
A: I am currently an International Programme Adviser for the International Relations Team in HM Revenue & Customs. I have previously worked with the International Strategy team to produce briefings for my Director who went on a high-level visit to Chile to discuss Brexit and tax-related matters with other Organisation for Economic Co-operation and Development Members. 
In addition, I was involved with the Capacity Building Unit to provide tax expertise to developing countries and my role is to conduct their Annual Review and suggest a set of recommendations on how they can better operate for next year's country programmes.
Q: What is your ultimate aim or career ambition after you complete the programme?
A: My passion is equality policy, and that is what I want my career to eventually focus on. There are so many roles and policies that could incorporate, from domestic violence, to asylum seeker policy, the gender pay gap, homelessness and NHS reform; anything that makes me want to do more and work hard. 
I want to be working on an area of government policy that makes me jump out of bed in the morning.
Q: How does the Fast Stream make you feel?
A: Valued. I can be unapologetically me in who I am and what I do and I don't have to sacrifice my values or my integrity for my career.
Q: What advice would you give to someone else considering to apply to the Civil Service Fast Stream programme?
A: Just go for it. There are so many options available to you within the Civil Service, and there's such a diverse range of roles and experiences – you don't need to know exactly what you want, the Fast Stream will help you figure that out along the way.