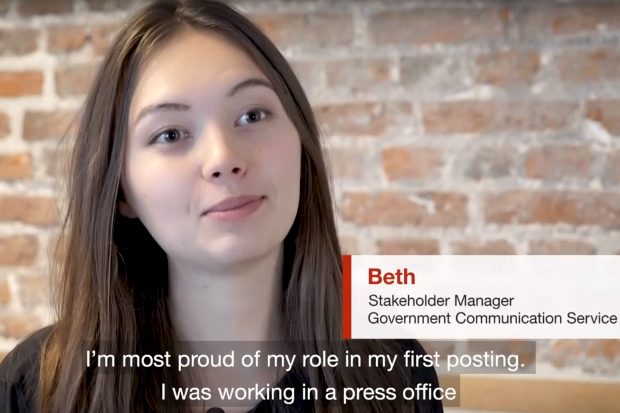 Q: Tell us a little bit about yourself
A: I am a recent graduate (June 2018), and all of my previous experience was science/academia based.
Q: What are you like outside of work?
A: I am very social and love spending time and travelling with my friends. I am at my happiest when I am exploring a new place. I also love food and trying different restaurants or new flavours. I plan my life around my next meal. I love walking and being outdoors, and listening to live music whenever I can. Recently I have enjoyed going to pub quizzes with my work team.
Q: Describe the Fast Stream in one sentence?
A: A carousel of challenges, learning and unique experiences.
Q: What are the three best things about the Fast Stream?
A: Meeting bright and like minded people. Being able to experience a wide range of government departments and policies and the learning and development opportunities. 
Q: What interested you to apply for the Civil Service Fast Stream programme?
A: I was at the University of Bristol studying Biochemistry in my final year and spoke to a Fast Streamer at a careers fair. I thought the scheme sounded exciting and varied and decided to apply. 
At the time, I was very unsure about what the first years of my career would look like and what type of work I would enjoy most. I also was attracted to working in government, as it would be motivating work that made a difference to people's lives.
Q: What attracted you to the programme and the particular stream that you applied for?
A: I applied for the Government Communications Service scheme because I knew I would enjoy a people facing job and also liked the idea of working on a broad portfolio rather than just one policy area.
Q: Please share your experience with the Fast Stream so far?
A: So far I have done two postings in central government communications. Six months in the Department for Environment, Food & Rural Affairs press office was an amazing way to start my government career. 
I got to work on headline stories and with senior government officials, Ministers and No 10. I loved the policy areas, especially making positive steps like cutting down single use plastics.
Q: I now work in the Cabinet Office and the Prime Minister's office in the Business Partnerships team working with business and third sector stakeholders. Specifically, the Inclusive Economy partnership which works to collaborate with different sectors to scale solutions to tricky social problems. 
It has been a fascinating posting with a change in administration and EU Exit shifting team priorities and keeping the nature of our brief interesting. 
Q: What is your ultimate aim or career ambition after you complete the programme?
A: My aim is to manage people and lead an ambitious team, potentially working on greener energy sources or sustainable growth. I like variety in my work and a brief that is genuinely making a difference either now or in the future. I am very open minded and am looking to continue my career in roles that stretch and challenge me so that I am always learning and improving. 
Q: How does the Fast Stream make you feel?
A: Proud , productive, and challenged.
Q: What advice would you give to someone interested in applying for the Civil Service Fast Stream programme?
A: Doing the process during my final year of university was tough, having to set aside time to prepare for the online tests and assessment centres took a lot of forward planning but worked well.You have nothing to lose by applying. 
The application process itself is a great learning opportunity and if you are successful the experiences that await you are unique compared to the other graduate schemes available. Working in central government is highly motivating, fast moving and there are so many exciting briefs to work on.