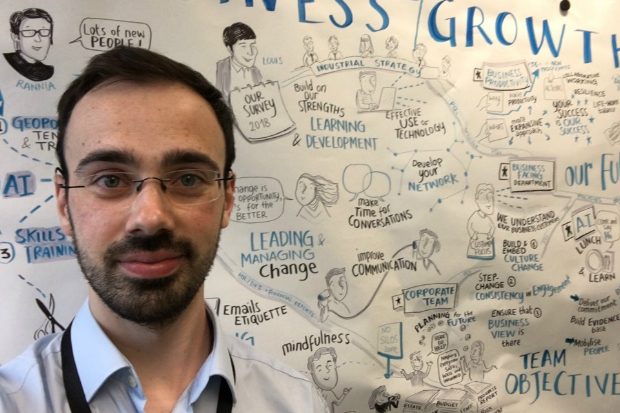 Q: Tell us a little bit about yourself. 
A: After growing up in Orkney, off the north coast of Scotland, I studied physics at the University of St Andrews, graduating in 2014. I then took up a PhD at the University of Bristol. 
Q: What are you like outside of work?
A: I am a music lover and enjoy playing guitar and keyboard, especially with other people. Along with  music, I also listen to a lot of podcasts, most of them about news and politics. I followed them out of interest , but now it  helps me with work to keep abreast of the latest developments. I also enjoy playing video games and like to play Super Smash Bros competitively.
Q: Describe the Fast Stream in one sentence
A: Challenging, inspiring and full of opportunities
Q: What are the three best things about the Fast Stream?
A: The community, the rotations and the chance to do work that makes a difference.Q: What interested you to apply for the Civil Service Fast Stream programme?
A: I was studying for a PhD in physics but I knew that I did not want to continue in academia. The trouble was, I was unsure what else I wanted to do. In trying to figure this out, I saw an article about physics in government and followed the rabbit hole to find out all about the opportunities available in the Civil Service, including the Fast Stream. 
It was a revelation that I could use my analytical skills in government to make a positive difference to peoples' lives and was excited to apply. I also wanted a job that would provide a good work/life balance.
Q: What attracted you to the programme and the particular stream that you applied for?
A: I hadn't actually heard of Operational Research before finding the Fast Stream. It was listed under the analytical streams and piqued my interest. In particular, the chance to learn and use a variety of mathematical and analytical techniques to solve the problems of the day sounded like a compelling and worthwhile challenge. 
As I was unfamiliar with Operational Research, I thought the regular rotations to different roles and departments offered on the Fast Stream would be a great way to learn about the discipline and the Civil Service as well as building my skills rapidly. 
Q: Please share your experience with the Fast Stream so far?
A: Before starting the application process, I went to many outreach events at my university. It was a great chance to meet current Fast Streamers, hear about their experiences, ask questions and get tips on the application process. When the time came to apply, I did the practice exercises online and revised the competencies. 
The online tests and video interview ended up going ok and so I was through to the Fast Stream Assessment Centre. This was a good opportunity to meet fellow applicants and share our experiences, but I found the tests quite stressful, as I had my heart set on getting a place. 
On my way home, I was convinced that I'd  failed but soon found out I was through to the Operational Research Final Selection Board, to my great relief. While the focus of this part of the assessment process was more specific to analysis, I had a similar emotional rollercoaster doing it. Happily, I passed that and secured my place on the Fast Stream programme. 
A little later I found out my first posting was to be at the Department for Business, Energy and Industrial Strategy. When I arrived at the Department there were a variety of induction events and training courses to attend with other Fast Stream analysts.  
These  introduced us to the things we would need to know as well as to each other. In the role, I've had the chance to do quite a variety of tasks, looking at business finance and the work of the British Business Bank, international trade and other activities of small businesses and monitoring the prompt payment practices of large companies, among other things. 
I've also had the chance to present my analysis across the Department and interact with other teams on shared projects.
Q: What is your ultimate aim or career ambition after you complete the programme?
A: I see the rest of my career in the Civil Service focusing on providing key insight and analysis to help to improve peoples' lives. Exactly what that might look like is something I am enjoying exploring through the Fast Stream, knowing that the scheme gives me the skills and opportunities to go far.
Q: How does the Fast Stream make you feel?
A: Confident! I can take on challenging work and succeed.
Q: What advice would you give to someone else considering to apply to the Civil Service Fast Stream programme?
A: There is a lot of material out there about the Fast Stream that is very informative, but I think the best insight I got was from the events run at my university by existing Fast Streamers. Hearing people on the scheme talk about their experiences and having the chance to put questions to them was invaluable.