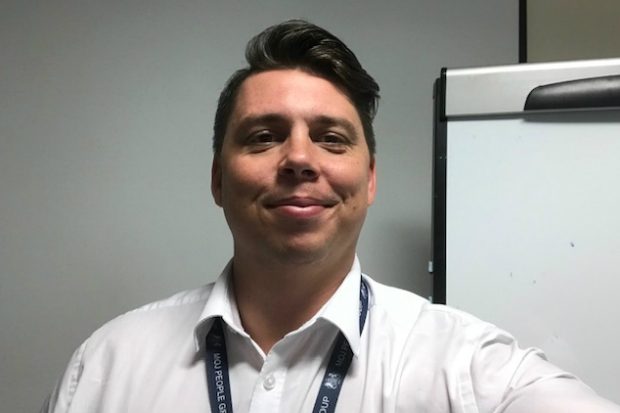 Q: Tell us a little bit about yourself
A: I was seeking a career change. I had served 13 years in the British Army, I was initially in the Infantry and had served in Iraq and Afghanistan. I left the Army in 2008, but found it difficult to find a suitable job. 
I re-enlisted and worked in a security based role, which gave me stability, but meant working in shifts and missing weekends, festivals etc. I had also been studying a degree through the Open University, which was coming to an end and I felt that I had gained skills that could be better used outside of the military. 
Currently, I work as an HR Business Partner with the Ministry of Justice. My usual work is a mixture of anything HR. This could be providing guidance on employment, improving recruitment, whilst delivering Team Stress Risk Assessments. On top of this, I also project manage the roll-out of the mental health provision for my division. 
Q: What are you like outside of work?
A: Outside of work, I am a family man. I have a wife and two young children. One is just about to start secondary school. I play sports, in particular, I play American football.
Q: Describe the Fast Stream in one sentence?
A: A challenging and extremely rewarding programme.
Q: What are the three best things about the Fast Stream?
A: The work is exciting. Some of the locations are steeped in history and are breathtaking. The possibilities and opportunities to develop are limitless.

Q: What interested you to apply for the Civil Service Fast Stream programme?
A: Having served in the British Army for around 13 years. I was seeking an opportunity with improved work life balance and a better employment offer in general. Prior to finding the Fast Stream, I had considered both transferring to another branch of the Army and training to become a teacher. 
Coincidentally, I found an advert for the Fast Stream in resettlement magazine one day at work and decided to look online. It was about 2 weeks before the next recruitment window opened, so I registered my interest and looked into the roles that I could do. 
Q: What attracted you to the programme and the particular stream that you applied for?
A: Speaking with some civilian friends in HR, and seeing that the Army offered the CIPD level 3 course as part of resettlement, I decided my second career would be in HR. In particular to the Fast Stream, was the pay during the training and the pay post training, the CIPD level & qualification and the approach to flexible working. I have a wife and two children and my role in the Army meant being away from them a lot.
Q: Please share your experience with the Fast Stream so far?
A: I took each stage as they came. I researched what the tests were looking for and completed practice examples of the assessments. I really enjoyed the assessment centre stage overall. It gave me ample opportunity to show what I could offer the Civil Service. 
During the ice breaker, I felt a bit intimidated by the high calibre of other candidates. But they said they were also intimidated by my years of experience. It was strange how we all initially perceived one another. However, throughout, the atmosphere was very friendly.
This was the first time I had applied for a job in a long time. I looked at the methods used and researched what they were, what their purpose was, and any tips for taking them. I also practiced soft skills, such as being interviewed to ensure I came across how I wanted to and to ensure I could translate my military experience to relevant civilian equivalent experience.
Q: What is your ultimate aim or career ambition after you complete the programme?   
A: Apply for a HR Business Partner role in the Civil Service.
Q: How does the Fast Stream make you feel?
A: Happy and fulfilled.
Q: What advice would you give to someone interested in applying for the Civil Service Fast Stream programme?
A: Make sure you're doing it for the right reasons. Public Sector work is all about making a difference for the communities in our country. The work we do is about outcomes for the general public and not about making money. You need to have a genuine enthusiasm for the work you do.