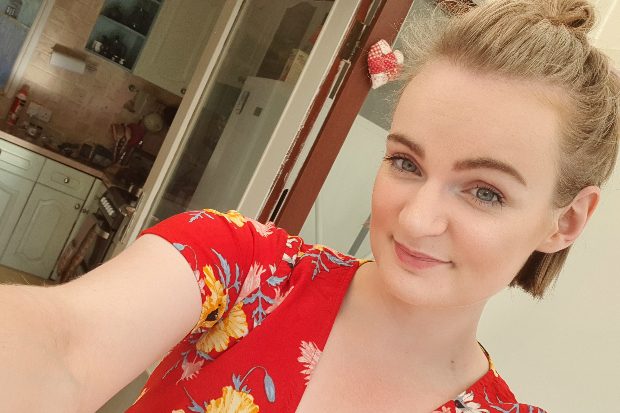 Q: Tell us a little bit about yourself. 
A: I graduated from University in 2016, and worked as a qualified midwife for a year before having a somewhat dramatic change of career. I worked as a Personal Assistance at the Institute for Apprenticeships for a year, which I loved, and then joined the Fast Stream. 
Q: What are you like outside of work?
A: I'm a bit of an introvert, but I do quite a lot outside of work. I volunteer for a charity that aims to end period poverty for asylum seekers and refugees, and I help to package up donation boxes for drop in centres and refugee centres. I really enjoy my creative hobbies too. I do a lot of drawing, painting, writing. I've also got a lot of family scattered all over the United Kingdom, so I find that a lot of my time is taken up visiting all of them, which I love.
Q: Describe the Fast Stream in one sentence
A: A great way to try a variety of different roles at the heart of government.
Q: What are the three best things about the Fast Stream?
A: The support available; the networks; the variety.
Q: What interested you to apply for the Civil Service Fast Stream programme?
A: I joined the Civil Service after working in the NHS. I graduated university in 2016 and worked as a qualified midwife for a year before having a change in careers. I worked as a Personal Assistant at the Institute for Apprenticeships for a year. My line manager was fantastic and knew I wanted to progress, and to develop, and she recommended applying for the Fast Stream. I did more research, and decided that I absolutely had to give it a go.
Q: What attracted you to the programme and the particular stream that you applied for?
A: I was really keen on the variety of opportunities that were on offer. I like that you can be placed in loads of different departments, across loads of different locations, doing different jobs. For the same reason, I chose the Generalist scheme. I wasn't sure which area or role I would like best, so wanted the chance to try quite a few.
Q: Please share your experience with the Fast Stream so far?
A: My experience has been really positive. During the application process, I felt it was explained well, I understood the deadlines and timescales, and the assessment centre was nowhere near as terrifying as I thought it would be. I was lucky in that I had a manager at work who was able to give me advice on how to approach interviews and assessments like that, but the application process itself was a great experience.
My first posting has also been fantastic. I have been in a really stretching role in the Department for Education, leading a policy area with a lot of interactions with stakeholders, other Departments and Ministers. My Cohort Leader and Activity Manager have both been supportive and helpful, and have pushed me to do things outside of my comfort zone for my own development. I've also really got involved with a number of 'extra curricular' activities too. I chair the Fast Stream Forum, for example, and I lead on events for the Fast Stream Women's Network. I've also had the opportunity to volunteer in schools, attend a huge range of training courses and speaking events, and get to know so many people from a huge range of backgrounds and professions.
Q: What is your ultimate aim or career ambition after you complete the programme?
A: My passion is equality policy, and that is what I want my career to eventually focus on. There are so many roles and policies that could incorporate, from domestic violence, to asylum seeker policy, the gender pay gap, homelessness and NHS reform; anything that makes me want to do more and work hard. I want to be working on an area of government policy that makes me jump out of bed in the morning.
Q: How does the Fast Stream make you feel
A: Empowered.
Q: What advice would you give to someone interested in applying for the Civil Service Fast Stream programme?
A: Just go for it. There are so many options available to you within the Civil Service, and there's such a diverse range of roles and experiences – you don't need to know exactly what you want, the Fast Stream will help you figure that out along the way.