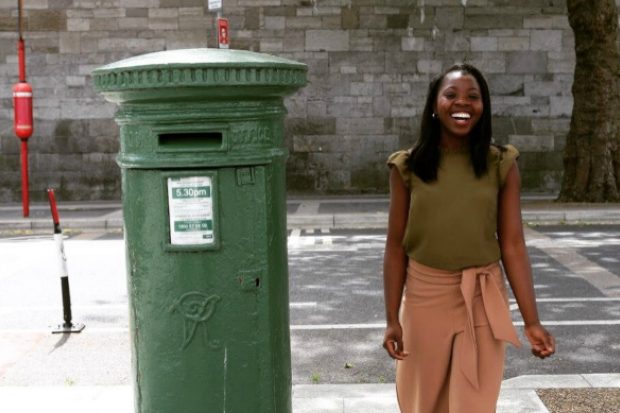 Q: Tell us a little bit about yourself
A: I graduated with a 4-year degree in International Business BA (Hons) from the University of Hertfordshire. I took Spanish classes for 3 out of the 4 years. In my 2nd year, I studied abroad at the University of North Carolina Wilmington (USA). 
In my 3rd year, I studied abroad at Universitat Pompeu Fabra (Barcelona) for a semester and then went on to do a 6 month Business Development internship in the Life Sciences department at a translation services company in Barcelona.
Q: What are you like outside of work?
A: Outside of work, I'm able to explore one of my passions, coding. I blog about this from time to time. I started teaching myself how to code in Python 3 the day after New Year's and started the #100DaysOfCode challenge, which is a viral challenge on Twitter. I have completed mini projects such as building a system that creates purchasing information and receipts and building a programme to determine the cheapest way to ship a package. 
I was lucky to land a place on the Leeds CodeFirstGirls Summer Intensive 'Intro to Web Development' course where I learned another programming language, JavaScript: mark-up languages HTML/CSS and frameworks. I got involved in pair programming and we created a website focusing on Online Abuse which is live on GitHub. 
Aside from coding, I attend the Hillsong Church, where I am actively involved and attend conferences, brunches and hangouts with the great people from church. Lastly, I am aiming to pick up a form of Martial Arts this year, probably Tai Chi.
Q: Describe the Fast Stream in one sentence?
A: A sensational stream that fosters curiosity and desire for change and improvement.

Q: What are the three best things about the Fast Stream?
A: Endless opportunities, accelerated career development and a great network of talented individuals.
Q: What interested you to apply for the Civil Service Fast Stream programme?
A: After I graduated in September 2016, I started my career as a Trainee Wealth Advisor; this entailed of just over 1-month training in Malta. I was then transferred to the office in Qatar and worked there for 7 months. It was a fun-filled, high pressure and fast-paced environment, but I felt that I had rushed into this career and started to do some soul searching. 
I came to the realisation that I wanted to move back to the UK and apply to graduate schemes that offered a broader experience and gave responsibility to lead on meaningful work that positively impacts society.The Civil Service Fast Stream description perfectly aligned with the type of role I was looking for.  So, I thought to give it a go.
Q: What attracted you to the programme and the particular stream that you applied for?
A: I was already looking for graduate roles in Procurement/Commercial mainly because I wanted a specialist role. However, the Commercial Fast Stream seemed far more dynamic in comparison to graduate schemes in the private sector. 
The main factor that attracted me to the scheme was the opportunity to work on large scale contracts and be actively responsible for creating value for money for taxpayers. I had the impression that Commercial would be stretching and fast paced. It also offered a wealth of learning opportunities including a professional accreditation with the Chartered Institute of Purchasing and Supply (CIPS). 
Q: Please share your experience with the Fast Stream so far?
A: My role on the Commercial Fast Stream entails Contract Management, Procurement and Strategy. I work at the MoJ and manage multiple contracts. My main role is to ensure that suppliers are delivering against contractual key performance indicators (quality, delivery, lead times) and that our end users (prison officers and C&R teams) are happy and feel safe with the equipment they will be using. 
This all ensures that taxpayers money is continually providing value for money throughout the life of the contract. I am also working on Government's Small to Medium Enterprises (SME) agenda as 1 of 3 SME Champions Leads.
Q: What is your ultimate aim or career ambition after you complete the programme?
A: My current aim is to work in a few government departments, driving change and innovation and to eventually become a Senior Civil Servant.
Q: How does the Fast Stream make you feel?
A: I feel valued to be entrusted and provided with the opportunity to lead on impactful work.
Q: What advice would you give to someone interested in applying for the Civil Service Fast Stream programme?
A: In the famous words of Nike and Shia LaBeouf, 'Just do it!' The Civil Service needs people like yourself who are curious, wanting to drive change, eager to learn and are keen to make a positive impact on society, The application process may seem daunting but you are more than capable. 
Try not to put too much pressure on yourself, go in there seeing it as a learning experience, and try to enjoy it. If you're unsure of which streams to select, my advice is that reach out to people on LinkedIn; they will be more than happy to share their experience with you.