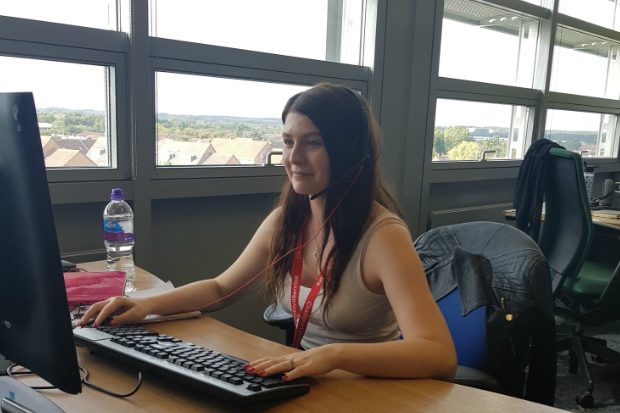 Q: Tell us a little bit about yourself
A: I was seeking a career change. Although I had worked as a Family Support Worker for three years after graduating, prior to graduation all my work experience was in this field. 
I recently completed a Post Graduate Diploma in Children and Young People's Worlds and really wanted to impact the lives of the most vulnerable more widely- working in government seemed the best way to do this. 
Q: What are you like outside of work?
A: I have a 9 year old daughter with whom I spend most of my free time. We love rides and often visit theme parks and waterparks. My husband does not share this passion with us so we tend to stick to the cinema when he's with us! 
I have an unusually named dog and love walking all over the beautiful North East countryside whenever I am not on a roller-coaster. 
Q: Describe the Fast Stream in one sentence?
A: Life changing. 
Q: What are the three best things about the Fast Stream?
A: Learning & development opportunities, working in different government departments, the ability to make mistakes
Q: What interested you to apply for the Civil Service Fast Stream programme?
A: After working as a Family Support Worker for 3 years after graduating from university, I was ready for my next challenge. I was working in a role which allowed me to affect positive change on the families. I wanted to further deliver positive change on a wider scale. 
Q: What attracted you to the programme and the particular stream that you applied for?
A: The main attraction for me was the opportunity to gain experience in many different government departments and work areas. I chose the Generalist scheme as I wanted my experiences to be as broad as possible. 
Q: Please share your experience with the Fast Stream so far?
A: The application process was long and had many different steps to go through. It can be difficult not knowing the outcome for long periods of time, for example after my assessment centre it was 8 weeks before I found out I had been accepted.  During onboarding I found the information very useful and helped drive my motivation in such a long process. 
Base Camp was a very unique experience for me. It was exciting and stimulating to meet so many new colleagues, learn more about the Civil Service and the Fast Stream programme and find out about what I could get involved in. It was a full on 3 days and mentally very draining but it was worth it for the invaluable learning I got from it. 
The first 3 months of my posting was the most difficult time I have experienced. New to the Civil Service, new to the Fast Stream and new to the job type it can be daunting at first. 
This time for me was about learning how to apply my existing skills to a role which seemed so different to anything I had previously done, building relationships with my Cohort Leader and Activity Manager, getting a feel for team cultures, getting in to a pattern with working hours and building my knowledge and skills of my new work area.  
As my posting progressed, I became more confident and began to build a portfolio of skills in different areas. Looking back over the past year, I developed so many new skills,  I feel so glad I chose the Fast Stream. 
Q: What is your ultimate aim or career ambition after you complete the programme?
A: I would eventually like to be a Director General working in Policy or operational areas within DfE, MHCLG or DWP. I shadowed an Executive Committee meeting during my posting and this really gave me the ambition and drive to try and get there after observing the dedication of the Director Generals. 
Q: How does the Fast Stream make you feel?
A: I feel scared and excited at the possibilities that lie ahead of me as I progress in my career.
Q: What advice would you give to someone interested in applying for the Civil Service Fast Stream programme?
A: Do it! You have nothing to lose by applying, if you don't you will never know what you could have done. The Civil Service needs people from all walks of life and all areas of the country in order to best represent the community it serves.