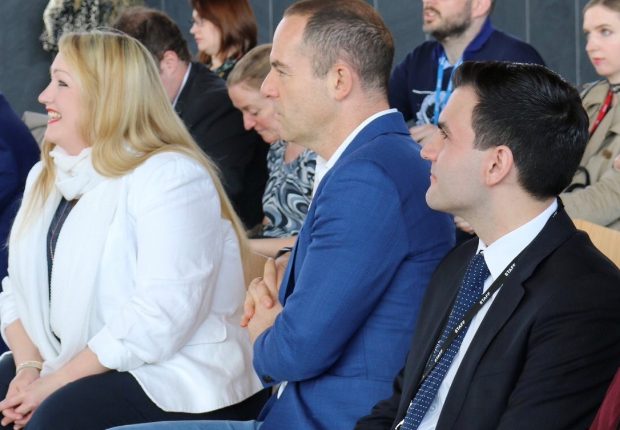 When I first applied for the Fast Stream, I hadn't considered that I might be posted to one of the UK's devolved administrations. Now, nine months into my posting with the Welsh Government, I know it's provided me with the best start to my civil service career.
I joined the Fast Stream a few years after graduating from the University of Chester. I'd been working in an area which I've felt passionately about for many years – helping schools in disadvantaged communities lead community transformation - and I thoroughly enjoyed my job. However, I'd always felt that those communities struggled to make their voices heard and wanted to bring my experience of living and working in those communities to the civil service.
The division I currently work in is responsible for developing and maintaining the local taxation system in Wales. I work on council tax policy and have led the development of two high profile policy areas: the removal of the sanction of imprisonment for non-payment of council tax and the introduction of a new exemption for care leavers. I'm now preparing policy options on a range of other council tax reforms.
Having oversight of the policy development process - from producing policy options, to introducing legislation into the National Assembly for Wales - has provided me with invaluable experience. It has also required working with, and coordinating the contributions of a wide range of colleagues across Government departments.
It's equally important to me that I'm embedded into the team and that I am engaged with the 'business as usual' matters of the division (that isn't a euphemism for dull). Preparing ministerial correspondence, advice, speeches, statements, and acting as a point of contact for council tax enquiries has been equally demanding and helped me to develop a broad range of skills.
Like the UK's other devolved administrations, the electoral system and political make up of the Welsh Government differs from Westminster. Add to that the bilingual environment, and the range of devolved and reserved matters, and you have a unique and fascinating dynamic, with different priorities and ways of working.
From the beginning of my posting, I've been invited to attend briefings, meetings and events with ministers. I've also been particularly pleased to see how accessible senior colleagues are. Their willingness to share their time and expertise, combined with a comprehensive programme of learning and development opportunities, make it an ideal place for fast streamers to develop their core skills and experience.
This is particularly important given that when I speak to current and prospective fast streamers about working in a devolved administration, they often express concern that there may be fewer opportunities available to those who live and work outside of London. That hasn't been my experience. There are also a range of Fast Stream networks across the UK that people can get involved with.
I'm also often asked about impartiality. The Civil Service Code requires that we carry out our role with objectivity and impartiality but that doesn't mean that we're expected to be amoral. Our sense of morality is part of the unique contribution that we bring to our roles and that is to be welcomed irrespective of the Government of the day.
I don't know where my next posting will be, but I'm very pleased to have experienced working in a devolved administration and feel confident that it's prepared me for whatever comes next. It's also been great to spend a year exploring all that Wales has to offer!
I would strongly encourage other fast streamers to consider asking for a posting to a devolved administration.