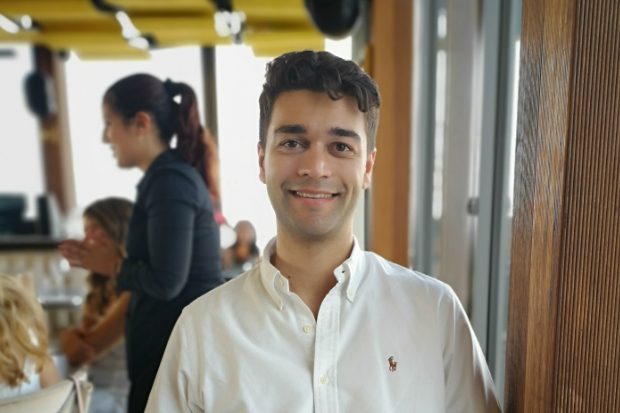 Q: Tell us a little bit about yourself!
A: I started the Fast Stream a couple of months after graduating from Durham University. I was looking to get straight into work on a structured development programme, and to start my career in the Civil Service seemed a great opportunity to expose myself to the work of government.
Q: What are you like outside of work?
A: I like keeping busy, getting involved with things and generally trying to keep too many plates spinning. I spend a lot of time with friends, many of whom have also moved to London to start work, and have a lovely family and a (even lovelier) dog called Phoebe.  
I spend a lot of my time keeping active as well – sport has always been a huge part of my life from rugby in the winter to cricket in the summer, I enjoy supporting and playing and generally getting outside and running around. I'm also a big fan of getting out into the country to contrast the manic pace in London.  
Finally, I really like cooking. I figured out from a fairly young age, if you love eating and want to eat a lot, you have got to get to know your way around a kitchen. 
Q: Describe the Fast Stream in one sentence?
A: An exciting introduction to the Civil Service, political institutions and the world of work.
Q: What are the three best things about the Fast Stream?
A: Supportive, encourages self-led development and opens your eyes to a huge array of opportunities.

Q: What interested you to apply for the Civil Service Fast Stream programme?
A: I was in my third year at university, looking for a well-reputed graduate programme to start my career and join after university. There was a lot of information online and in newspapers about the schemes, so I looked into them further and ended up applying to a few different roles, and was successful for the Fast Stream!
Q: What attracted you to the programme and the particular stream that you applied for?
A: The options and opportunities the Fast Stream brought were very attractive. Also, reputation was a big thing, as well as how well established the programme was. There was a lot of information about the scheme and I really liked the talking heads and detailed written information; it helped to personalise the schemes and give a better sense of what was involved. 
I was looking for various schemes, but I had previous internship experience in Human Resources, so I applied for the HR Scheme.
Q: Please share your experience with the Fast Stream so far?
A: I joined the Department for Business, Energy and Industrial Strategy (BEIS) Strategic Resourcing Team in August 2017, after a 3 day Induction. At BEIS, I spent my first six months delivering volume recruitment campaigns to bring in Policy Advisers for EU Exit roles, and working to improve the recruitment process. 
The next six months were spent improving the end-to-end recruitment experience in BEIS; reviewing our attraction strategy including social media and website marketing, developing more tailor made assessment techniques to ensure we brought the best talent into BEIS and continually working to ensure we integrated candidate experience into the recruitment journey for prospective employees. 
My final six months were focused on improving the recruitment offer internally within BEIS, working with managers, HR professionals and Communications teams to ensure we articulated BEIS's recruitment offer and achievements as effectively as possible. 
I have just completed my first six months in DEFRA as an HR Business Partner for DEFRA Group Property and Corporate Strategy. Work has involved advising on complex HR matters, reviewing the application of a specialist pay allowance, and supporting an organizational restructure in advance of EU Exit. 
Q: What is your ultimate aim or career ambition after you complete the programme?
A: I'm highly motivated to make a difference to things I am interested in and care about. For example, tackling homelessness or education disparities, or improving the public services we offer as a country or the infrastructure that connects and enables people from all corners. 
I would love to deliver changes around the themes above and ultimately be responsible for making us a more inclusive, connected and fair society. I'm excited by the idea of leading people in delivering some of these things, and would be keen to be at the head of a team that oversees some of these projects later in my career. 
Q: How does the Fast Stream make you feel?
A: Reflective.
Q: What advice would you give to someone interested in applying for the Civil Service Fast Stream programme?
A: Read through all the different schemes, don't just pick out one or two you have in mind because they might be highly competitive or their might be better fits elsewhere. Think about your interview responses in advance – look up the STAR model, think about things you have done and things you would do. 
Look at the HEO level on the Civil Service Success Profiles Behaviours framework to get a sense of the kind of things that might be looked for.  Don't set your sights on one thing or location or job.