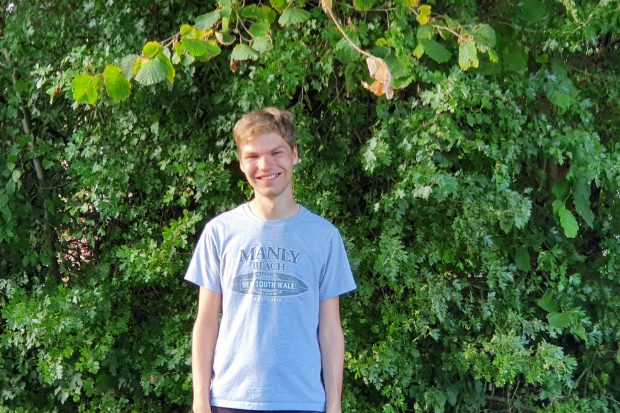 Q: Tell us a little bit about yourself. 
A: I graduated in the summer 2018 with no previous experience of full time work. Before starting Faststream, I started my internship at Lloyds Banking Group.
Q: What are you like outside of work?
A: Most of my time outside work is spent studying Japanese. I took Japanese classes at university and decided to continue to self-study once I started full-time work (with the help of a tutor for an hour a week!) I have benefitted from the flexible working approach of the Civil Service by leaving work early on Wednesdays to attend these tutoring sessions.
Q: Describe the Fast Stream in one sentence
A: A boundless range of opportunities - from working on delivering Brexit to producing statistics on baby names!
Q: What are the three best things about the Fast Stream?
A: The range of posts available, the guarantee that you will try lots of varied posts before you finish and the network you make with other Fast Streamers. 
Q: What interested you to apply for the Civil Service Fast Stream programme?
A: Strangely, I found that the Fast Stream was not talked about too much between STEM students which is striking for a top graduate scheme with specific analytical streams. I heard about the Fast Stream from friends who were studying Humanity degrees. Once they told me about all the different opportunities the Civil Service has to offer, I knew it was something I had to at least look into.
Q: What attracted you to the programme and the particular stream that you applied for?
A: I studied Mathematics at the University of Warwick from 2015-2018 and like many university students in the final year of their studies, I was applying to graduate schemes left, right, and centre. I was conflicted about what kind of career path I wanted. I knew that I wanted to be able to apply some of the Maths I had learnt, but also to feel like what I was doing was making a difference.  
I initially applied to many jobs in the financial sector, primarily actuarial positions. But this never sat quite right with me when I knew I could use what I had learnt to really benefit society, and that's when I learnt about the Fast Stream. Therefore, the Government Statistical Service stream, in particular, was a perfect fit for me as it fulfilled both of the main aspects I wanted in a job.
Q: Please share your experience with the Fast Stream so far?
A: It all started with the application. The Fast Stream application process was fairly standard in terms of graduate schemes. The difference with the Fast Stream is its emphasis on appreciating the unique skills each individual can bring and not focusing on their background. The process includes situational judgment tests, a video interview, and an assessment centre. Luckily, they are not all as scary as they sound and great effort is made to ensure you feel as relaxed and confident during these exercises, as possible.
I received confirmation that my application had been successful around February, allowing me to focus on my final year exams in a relatively stress-free state. During the summer, I received regular emails from the Fast Stream team, which included guidance on completing pre-employment checks and security clearance. Later on, I received information on my first posting. 
I was also invited to two Discovery Days (one for all Fast Streamers and one for Government Statistical Service Fast Streamers) to learn more about the structure of the scheme and what roles we may take up. This was an excellent opportunity to meet others in my cohort and begin networking.
My first placement on the Fast Stream has been working as a Health Statistician at the Office for National Statistics. I had the opportunity to work on hard-hitting statistical publications such as inequalities in life expectancy and on a lighter note, baby names. 
This project included discussions with stakeholders in other government departments which has given me great insight into the policy decision making process. I have also developed my coding skills and led a project to reform the way we use code to produce our statistics.
Q: What is your ultimate aim or career ambition after you complete the programme?
A: My ultimate ambition is to be leading an area of new analysis that provides policymakers and the Government the ability to make better decisions that directly affect our society.
Q: How does the Fast Stream make you feel?
A: So proud to know that the work I am doing is truly making a positive difference to our society.
Q: What advice would you give to someone else considering to apply to the Civil Service Fast Stream programme?
A: You will have the opportunity to select up to 4 of the different streams in preference order when you apply, so make sure you do some research to determine which are the best fit for you.
In terms of the application process, the main thing is to be yourself. The Fast Stream is interested in your unique experiences and talents and wants to see your strengths shine through these. It also helps to be prepared, there are lots of practice tests online for exercises like the situational judgement test and the video interview. 
The Civil Service also publishes guidance on the behaviours and strengths they will be looking for, so be sure to bear these in mind.