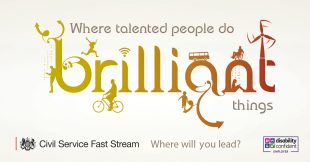 Why the fast stream is a brilliant opportunity for those studying politics and social policy
During my History Degree at Bristol I developed an interest in the welfare state, and eventually specialised in child benefit policy for my dissertation. I continued to follow this interest, and chose to do my masters in Social Policy at the London School of Economics.
During my masters I learnt about a vast array of policy, spanning from social security to education, social housing and mental health. By this stage it was clear to me that I wanted to work in policy, and I knew I wanted to have a career that would contribute to helping people, as cliché as that sounds.
I began exploring my options, considering options such as think tanks and consultancies for the public sector. When I went through the fast stream application process I still hadn't completely made up my mind, but on finding out I had been offered a place I knew it wasn't something I couldn't turn down.
One year later and two fast stream postings down, I am confident I made the right decision. Moving from studying social policy, in essence critiquing it, to being part of developing and implementing policy definitely required a mind switch. Suddenly it's not as easy as simply saying "this policy doesn't work" or "this policy should be changed to this", as you are now bound by the constraining factors the civil service continually faces. Namely, money and politics. Consequently, it's an even greater intellectual challenge and requires a greater degree of creativity in thought.
However, I still believe working inside government offers the opportunity to instigate change. I have watched colleagues turn a policy idea into reality, and design something that works better for those it is intended to benefit. So whilst it is a complex intellectual challenge, the civil service can offer great responsibility, which in turn can lead to making a significant impact to the lives of others.
Moreover, the huge variety the fast stream and civil service offers means you don't have to commit yourself to one policy area. Since joining I have been involved in improving opportunities for disability sport, improving opportunities for children who grow up in workless households, and helping the government meet its housing supply targets.
So if you're interested in policy and politics, and want a career that contributes to society, the Fast Stream could be the perfect match for you. You'll be faced with great intellectual challenges, across a number of policy areas, and hopefully you'll feel like you're getting to make a difference too.