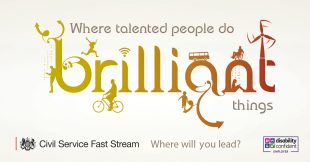 I'm in my first year of the Commercial Fast Stream, and am placed in one of the central commercial teams in the Cabinet Office. Before joining the Fast Stream, I studied classics at university then had a brief spell working at an educational social enterprise. I had absolutely no procurement experience – in fact, I didn't even realise that in government-speak, commercial = procurement.
The commercial fast stream is one of the smaller schemes and we get together regularly at training sessions which creates a great community. Over the four years of the scheme, we work towards CIPS (Chartered Institute of Procurement and Supply) qualifications and the sessions have been really helpful – not just to learn from the CIPS tutors, but also to discuss work issues with your friends from other departments. There are a wide range of jobs within the commercial function (from running procurements, managing frameworks, overseeing the day to day operations of a contract, examining trade policy, or looking at strategic supplier relationship management), and so the ability to learn from your cohort is extremely valuable.
My first role has been a fantastic introduction to government and to procurement. The Markets and Suppliers team looks at the relationship between government and strategic suppliers, and my current role is as a Commercial Analyst looking at the business process outsourcing (BPO) sector. This includes some well-known companies that often end up in the news, so it's definitely been an interesting experience so far!
Day to day, my role consists of keeping an eye on the suppliers' financial performance, pulling together information about their presence across government, writing briefings or presentations for senior civil servants ahead of supplier and investor meetings, and reviewing departmental business cases so I can write a submission to the Cabinet Office minister as part of the "spend control" process. The team tries to create a "one-government" view of the suppliers, monitor risk across different departments, and share best practice. It is incredibly valuable to ensure that departments break down the silos and form productive and sustainable relationships with suppliers. Another positive of the commercial stream is that postings are twelve months rather than six so I feel like I have really been able to get stuck into this role.
The wonderful thing about the BPO sector is how varied it can be. I have done bits of work on programmes ranging from asylum seeker accommodation to storing historic census records. I have also been lucky enough to go on a couple of trips to see the suppliers in action. I've been to see a passport printing factory, military planes at RAF Brize Norton, and even drove a boat down at HMNB Portsmouth!
In October I am off to join the Department for Work and Pensions' Estates team which will be completely different to my current role. DWP is completely changing the way its buildings are run after the expiry of a 20 year private finance initiative and so I'm sure there will be a lot to do!