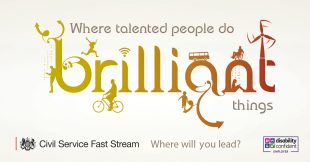 When I joined the Fast Stream, I couldn't wait to be developing policy in the centre of it all. I imagined myself crossing Westminster Bridge with a bag full of Official Sensitive marked papers facing a busy day of meetings in big grey buildings.
My first posting was in a small, red brick building in Sheffield with DWP. I didn't know what to expect, and believed I would be working in a Job Centre Plus until my first day. In reality, I spent 6 months negotiating procurement deals for disability employment programmes, in a building of 400 commercial, policy and digital colleagues.
I am now coming to the end of my second posting, which has been with the Welsh Government in Cardiff. Second time around discovering that I hadn't been given my location preference was harder: I was by now instinctive with a Telekit, used to early trains to London and grateful of the benefits of living near the Peak District, but I was ready to move back to old friends and get to know the backstreets of Westminster. I tried to contest the posting, but developmentally it was exactly what I'd asked for.
My Welsh Government posting has turned out to be the dream job I wouldn't have dreamt of. I'm a tax policy lead, and hold the ring on new devolved taxes: in other words, I get to spend my days advising ministers and writing debates on policies aimed at changing behaviour and meeting critical environment, health, economic and housing objectives. My proximity to the minister, to the Welsh Permanent Secretary, and even to our director is incredible, and I know I've been spoilt when I hear Fast Streamers in Whitehall longing for half an hour in a room with a special advisor. Despite my initial doubts, I know I'll now have to manage my expectations of policy making at Fast Streamer level in Whitehall.
At the end of my first year on the Fast Stream I still haven't worked in a London department. Moving away from my family, friends and partner was not my first choice, but it has meant that I have come to love places like Sheffield where I would probably never have lived, met people I wouldn't have met, and learnt a lot about the challenges and benefits of remote team working. The past year has at times felt like someone else's choices about my life, but it's taught me to be open to new experiences. It has made me a better civil servant, as I will never make the common mistake of forgetting about colleagues in other parts of UK, referring to government as "Whitehall", or organising an impossibly early London event for a nationwide department.
At this early point in my career, not knowing where I might go is positive, as there are brilliant roles that I wouldn't consider through ignorance. I would advise anyone considering the Fast Stream to be prepared for and open to its unpredictability.