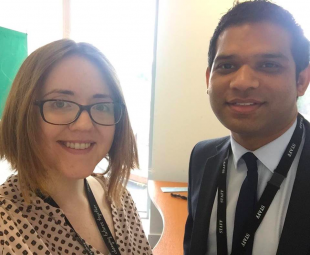 I am a student of Politics and International Relations at the University of Aberdeen. I applied for the Fast Stream Summer Diversity Internship Programme to appreciate what it means to work in the Civil Service.
As an SDIP intern, I was assigned to work in the Department for Work and Pensions (DWP) in Glasgow. I realised that the work in DWP was more complex than I had assumed when I was told by my managers about my role during my internship. I was assigned to hold consultation exercises with DWP's stakeholders to gather information to feed into the Scottish Government's New Scots Strategy for Refugee Integration, 2017-2020. My role was therefore linked to both policy and operations.
My role had two phases: first, to organise consultation sessions with DWP's stakeholders and, later, to write a report for the Scottish Government. This meant a lot of preparation and planning. I had to use a lot of skills, such as time management, communications, and event planning, among others, to get the job done.
I was line managed by Sarah Bennett, a Fast Streamer, and had an opportunity to work with other Fast Streamers in the DWP. This provided me some insight into the journey made by these young, enthusiastic individuals who were on their second placements within the Civil Service.
When I had some time away from my own project, my line manager made sure that I got a wide range of experiences outside the DWP. I had an excellent opportunity to job shadow in the Department for International Development (DfID). I also met colleagues in Westminster over the phone. I was encouraged by my line manager to speak to DWP's Permanent Secretary Robert Devereux during a monthly employee discussion. This boosted my confidence in myself.
It is interesting how working in the Civil Service can take you to wide range of places. My colleagues arranged for me to visit a prison to get an insight into the services being provided by the DWP there. This was an eye-opening experience to learn how DWP services are made available everywhere regardless of one's background.
I also had a chance to attend a DWP partner's event at a community BBQ. It was a chance to meet with a wide range of stakeholders away from the office environment to talk about ambitions and aspirations. I found that the social aspect of the Civil Service is an integral part of one's development and growth.
These experiences have inspired me to apply for the Fast Stream once I graduate from the University of Aberdeen in 2018.
I believe that every human being is gifted in some way, the rest we learn from life as we go on. I think this ethos is valued in the Civil Service. With a practical and hands-on approach, adaptability and common sense you can go far. I think anyone who is interested in the SDIP or the Fast Stream should take the first step and apply, like I did a few months ago.