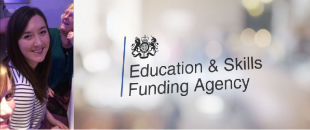 I remember very clearly the day I found out I had secured a place on the Commercial Fast Stream. The first thing I said to my Mum on the phone was "I wonder where they are going to send me…" with grand ideas of Whitehall.
I later found out that 'where they were sending me' was to the Education and Skills Funding Agency, in an office block that I had watched being built just a few years ago, situated a 10 minute drive from my parents' house in Coventry. Despite being thwarted in my attempts to escape my (dearly beloved) home city, I was pleased to have the opportunity to start my career with the Civil Service at ESFA, having spent the previous two years working in a large secondary school.
I have spent the last 10 months working with the Condition Data Collection team, part of the Strategy and Intelligence division of ESFA Capital Group. The CDC programme is the largest data collection of its kind in Europe*, visiting all 22,000 state and voluntary funded schools in England over 3 years.
My first day with the CDC team coincided with the deadline for Building Surveyors to submit tender bids for the programme contract, meaning that so far I have been involved in tender evaluation, contract award, contract sign-off, mobilisation, pilot testing, getting official go-ahead, programme commencement, and 5 out of 6 months of a stand-still period (in name only). 10 months ago, most of that sentence would have made no sense to me but I have surprised myself with how quickly I have become familiar with the language and practices of the programme.
My experience of contract award and management has felt like a whistle-stop tour and I have been involved in so many elements of the CDC programme from day 1. I have been able to define my own role; putting my penchant for data and spreadsheets to good use by building a programme budget tool (21 tabs and counting), and using this tool to monitor and track contractual changes and monthly invoices. I have also gained Stakeholder and Communications experience, following the departure of a colleague back in February. I am now the sole member of the team who knows how to use CRM to respond to incoming enquiries (and we get a LOT).
By far the biggest challenge I've faced this year has been working in a dispersed team; my activity manager is in Sheffield, the programme director is in London, and several other team members are based in Manchester. This has led to several 'putting a face to a name' moments throughout my post, and I have definitely gained an appreciation for the value of face-to-face meetings over tele-conferences. That being said, it is much harder when meeting face-to-face, to hide behind the mute button.
*My Activity Manager brings this 'fact' up at every team meeting. It is unconfirmed, but I am still very tempted to put it on my CV.