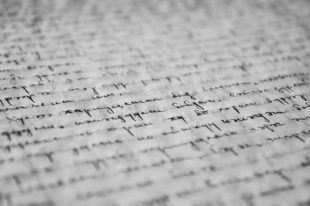 Yes, that was the plan. An attic room lit by stubs of candles and carpeted in crumpled papers; elevated to prestige only after some unfortunate, untimely death fuelled by the tortures of unrequited love, inadequate heating and cheap liquor.
After all, why else did I choose to study English Literature?
I remember one of my old lecturers asking this question and then half-jokingly following it up with 'well it can't have been in the hope of actually getting a decent job – I had to get a PHD before I could get one.' This was just what a class of third year English Literature students probably didn't need to hear as we were about to graduate into a recession!
Anyway, in spite of a fragile labour market, my dreams of making a career as an impoverished and misunderstood poet never quite came to fruition. I also realised that perhaps I could find some more useful things to be doing. Or maybe I was just born in the wrong century.
After a string of other jobs (some I loved and some I didn't love at all) life led me almost by chance to the Fast Stream and without fully realising it at first, I had found a way to develop my skills and use writing in a productive way.
Don't get me wrong, poetry and fiction remain my favourites – but now I have a different outlet to make words mean something.
So what might you write about as a Fast Streamer? Well, just about anything! The Fast Stream offers you the opportunity to work in almost any Government Department or agency, which means the subject matter you deal with could be anything from public health to warfare; commemorative paving stones to digital trains; local community rights to international diplomacy.
The incredible range of roles available within the Fast Stream, and the Civil Service at large, is the first big secret you learn about the Government. There is a job to suit any possible interest or skill you may have or want to develop.
There are a huge range of things you might be asked to write, and to give you a bit of a flavour here are some of the things I have written in my first year as a Fast Streamer:
-Briefings for Ministers on all range of topics
-Speeches used in debates in Parliament, or on Ministerial visits
-Answers for questions asked in Parliament
-Meeting minutes
-Tweets or quotes for the media
-Correspondence to members of the public
-Business Cases to gain funding for projects
-Slide packs for senior leadership teams
-Strategic documents
-Many, many hundreds of emails (this may not seem the most exciting, but a well written email can get you a long way!)
One of the competencies you develop as a Fast Streamer is 'delivering at pace' (the clue is in the name). When it comes to writing, this means you often have very tight deadlines to meet and you quickly developed the discipline and focus needed to get things done a lot more quickly than you thought was possible.
You get used to distilling a huge amount of complex information into simple and concise terms on topics a few months ago you knew nothing about.
It's a fairly continuous challenge! But that is what makes it an exhilarating job. Plus the things you write are all about promoting the interests of our citizens, and that is generally very rewarding.
For anyone out there considering a life as a failed writer, I would urge you to have a look at the Fast Stream and put your pen to good use.
I am of course still a failed writer in my spare time, which for me is the best of both worlds.