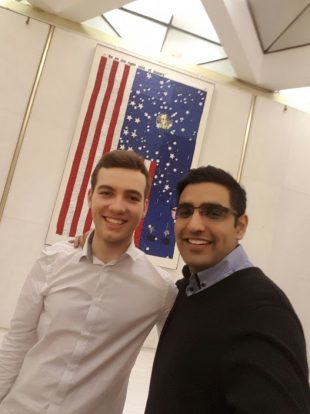 Two years ago, I was in the University of Warwick library, mulling over what career path I wanted to take after I finish my degree. I was a final year maths student, with a rough idea of the type of career I wanted to have: work for an organisation that did meaningful and impactful work, offered professional development and would give me a broad range of experiences.
With this in mind, and swatting up on all graduate schemes in the public and third sector, it was clear from the off that the Fast Stream (and in particular, the Finance Fast Stream) was the stand-out scheme. No other scheme could match the broad range of placements available on the Fast Stream (I know people delivering large scale IT projects in Moorfields Eye Hospital, a Finance Brexit Coordination Lead and another working in the Humanitarian Leadership Academy, analysing the effectiveness of international aid projects). Combined with the nature of the work of the Civil Service, with the added bonus of getting an accountancy qualification, the Finance Fast Stream topped my list – and a year later, I started my career in the Department for Transport on the scheme.
Finance in the Public Sector has two major functions: to ensure we are accountable to the taxpayer and to act as an enabler, to maximise the efficiency and effectiveness of projects across Government. In my first role at the Department for Transport, I worked in the Financial Accounting & Controls team, and was mainly working on the accountability side, in the form of assisting with the delivery of the Annual Accounts. I was extremely fortunate to have a manager who was extremely engaged with my development and gave me real responsibility, in the form of maintaining the Fixed Asset Register (which contained over £7 bn worth of assets at cost, one of the largest across Government). I maintained the register, working with Internal Auditors to action their recommendations to improve the accuracy of the register, and subsequently produced the Fixed Asset note to the account, which was audited by the NAO and fed into our Annual Accounts. Leading on VAT controls gave me the opportunity to liaise with many colleagues across the department, ultimately recovering over £8 million for the Department and ensuring tax compliance across the organisation.
The Finance profession is becoming increasingly instrumental in decision making at every level of the Civil Service. We need to ensure that we spend each pound of the taxpayer's money with Value for Money in mind, and ensure that we are transparent and accountable in our reporting. Accountants are the driving force tackling some of the most difficult and urgent issues we face as a country.  Working in the Finance profession as a Fast Streamer puts you in a fantastic position to lead on solving these problems.