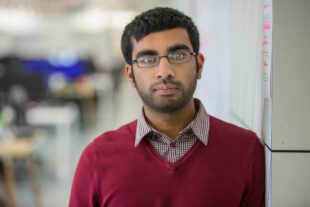 I graduated from Durham University with a BA in Philosophy, Politics and Economics. I subsequently did a Masters in International Relations at Warwick University. I then spent a couple of months interning at the Institute of Economic Affairs, helping with organising events, researching for the academic staff and writing articles for the online blog.
I joined the fast stream in 2016 through the Digital and Technology (DaT) specialist scheme. Even though it's a bit cliched, my main drive in getting a job in the civil service was to work for the public good. The fast stream stood out to me as to provide a structured training and career development to reach senior management within the civil service within four years. My lifelong interest in technology meant the DaT scheme was a natural fit for me.
In my time in the fast stream, I've spent six months in the Ministry of Justice (MoJ) in London as a research and development analyst. The role was interesting and eye opening as it provided insight into how IT infrastructure is provided and managed in a large organisation. At the time, the MoJ were running a Voluntary Early Departure Scheme to help downsize its workforce and I was given real responsibility from day one in helping ensure all leaving staff returned their technology assets and these assets were properly decommissioned.
In my second posting, I spend six months in Washington (not DC!) working for the Department of Work and Pensions as a Cyber security analyst. The role was very intellectually challenging and stimulating as I was tasked with writing a few security standards for the department. I liked the fact that I was given positions of responsibility and varied work during my time there. Now for my next posting, I will be working as a researcher for the Government Digital Service.
I have thoroughly enjoyed my time in the fast stream so far. I appreciate how much focus there is on our personal development and in acquiring skills with ample training opportunities and the positive culture to help us learn, grow and succeed. I further take pride in the civil service's ongoing resolute commitment in encouraging diversity and inclusivity. The civil service can truly be an exciting place to work for the aspiring and talented.