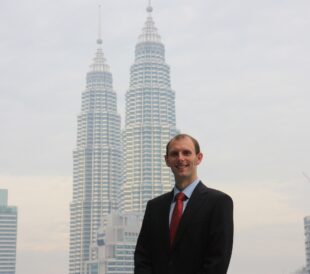 Paul Rennie – Deputy High Commissioner, Kuala Lumpur

Speaking to colleagues in the Foreign Office over the years, my sense is that each decade has been defined by a big policy narrative.  It is a crude measurement (the FCO is active on so many fronts that you can hardly single one out) but it has been in to these areas where some of the brightest were drawn, and where reputations were forged.
In the 1980's, it was the Cold War, and where a good grasp of Russian set you apart.  The 1990's were defined by Europe, whether it was the Maastricht treaty of 1992, the fall of the Berlin Wall, or the challenges in the Former Yugoslavia.  In the 2000s it was counter terrorism, and with it our engagements in Afghanistan and Iraq, where so many FCO staff served. 
When we look back on the 2010s, I believe it will have been economics that defined us. From the post-dot.com boom, to the housing bubble, to the Great Recession, and then into Brexit and the challenge to the global trade order.  And what that means is those who want to thrive will need to have a firm grasp of economics – because the legacies above will be with us for a while.
At this point, I should probably confess to you that I am not a very strong technical economist – I have an MSc in the discipline, and can run the regressions (or could once upon a time …), but it isn't my strength.  What I enjoyed at University was the applied side of economics, where the policy met the people - plus I wanted to travel,  Hence a job advert that offered "work as an economist: two years in London, three years overseas" with the FCO seemed irresistible. 
Happily for me, technical economics isn't the core of an FCO role (but travel certainly is!).  It is instead to act as a bridge between the technical and the policy.  To be able to understand the numbers, be credible when you meet people, but then extrapolate the data into policy choices for the UK. 
My first role in London got me up to speed, but it wasn't long before I was at the United Nations, arguing the UK's case on development policy drawing on reams of economic evidence.  But it was so much more than that.  The day I sat in the UK seat on the UN Security Council was mind blowing: only a few years before that I had been in the visitors' gallery as a student backpacker, wondering how you ever got to sit around that famous circle.  
As Head of the Economic Section in Brazil it was a chance to work in one of the most dynamic economic environments going, a place where hyper-inflation was not an historical case study, but something within living memory of people my own age.  Of course the challenge now was doing it all in Portuguese.  Which led to a somewhat embarrassing moment in my first month when I confused the word for vacancies (vaga) with cows (vaca) and promptly informed the Ambassador there was a meat crisis in Sao Paulo as every cow had 500 applicants ... You live and learn ...
From there back to the UK, and a time supporting the Cabinet Secretary, Lord O'Donnell (himself an economist) during the Tony Blair/Gordon Brown transition, and from the Security Council table I found myself joining meetings at the Cabinet table in No10 (certainly no visitors' gallery there!).  And then working on the G8 and G20 summits post-financial crisis - including the 'Trillion Dollar' summit, where I was arms length from the who's who of world leaders. 
Before back overseas again, spending time in India working for DFID on development aid programmes, where a logical and evidence-driven approach was critical to get to the heart of poverty alleviation.  Sadly, all my economics training was no help whatsoever when I was confronted with fifty local farmers deep in rural India and was asked to judge the village onion contest - I got the sense they were more surprised than I was.
After that, a switch of theme as Head of the Political Department in India, the largest democracy on earth.  What place an economist there?  Well for me, the heart of economics is human decision making in an environment of choice, and if that isn't core politics, I don't know what is (happily the hiring manager agreed). As any parliamentarian will tell you, it really is the 'economy stupid' for their constituents. 
And now I am a Deputy High Commissioner in Malaysia, where all the leadership, negotiating and analytical skills I gleaned as an economist really come to the fore.  That is especially true when I need to talk to businesses about Brexit, trade and what future for the UK – happily for me, I seem to have acquired exactly the skills that I needed for the great policy narrative of our time.
If I am honest, I never really imagined the FCO would take someone like me: I am certainly not posh (my mother was a taxi driver, my father an engineer); nor did I attend Oxbridge.  And nor did I imagine economists would be able to lead such varied careers, or be able to expand into so wide a range of jobs.  But I was wrong on both counts.  The diversity in the FCO is incredible and growing by the day.  While a career in the FCO is what you make it, and as an economist I honestly believe it has given me the edge in every job I have had. 
What next?  Honestly, really anything I want.  Ambassador, private sector, time in another government department, working for NGOs ... the joy of this career is that every job I have done has opened more doors for me than it closed, and has given me skills that are relevant and transferable in any environment.  And it all began with two years in London, and three years overseas ...