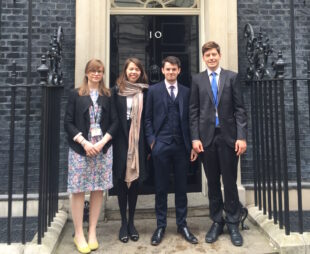 It's not every week that you get to visit two of Britain's most constitutionally significant buildings, but that's what a Fast Stream posting in the Cabinet Office allowed me to do.
The week in question began with a trip to the Palace of Westminster, where I met a colleague on the Thames-side terrace. The purpose of the meeting was to organise a workshop for the House of Commons Executive Committee, who wanted to know more about 'smart working'. This is a concept that embraces flexibility and pragmatism in working practices, IT, and work spaces; it can bring enormous cost savings and improvements in staff well being, and rolling it out across government is a Cabinet Office priority.
However, establishing 'smart working' across government is no small task; it represents a wholesale revolution in the way the Civil Service works, and requires a level of knowledge and understanding that many departments simply don't possess. My role was to help raise awareness, understanding, and enthusiasm for the concept across government. This involved visiting Parliament and engaging with senior leaders there, but I also worked with stakeholders from a range of other government departments. I met with them one on one, set up working groups and workshops, and took them on tours around model work spaces. Despite only being in the role for six months, I was referred to by some of my stakeholders as a subject matter expert, which was as gratifying as it was inaccurate.
The second building of note that I visited was No. 10 Downing Street. This trip wasn't strictly work related (some of the Fast Streamers in Cabinet Office managed to get a tour), but it was interesting to get an idea of how the building operates. The Civil Service crams in more people than you might think, and they have to work alongside myriad government employees, such as special advisors and chiefs of staff. The ability to work 'smartly' has helped to alleviate the considerable pressure on space, and therefore contributed to the efficient and effective running of central government.
However, I must admit that the highlight of the tour was more ephemeral than witnessing the lasting benefits of smart working: during our tour of the Cabinet Room, I was able to sit in the Prime Minister's chair. I won't comment further on how satisfying an experience it was, but I will say this: despite dating from the Gladstone era, the chair is quite comfortable.
Such are the range and quality of experiences that the Fast Stream is able to offer: you will get to work in settings rich in history, but more importantly you will be provided with unrivaled opportunities to develop yourself and to 'give something back' to society. My time at the Cabinet Office in particular allowed me to establish a large network of talented, engaging colleagues, develop my communication and relationship management skills, and make a tangible contribution to rolling out smart working across government. This programme will, in the foreseeable future, revolutionise the way government works. It will therefore allow the Civil Service to drastically decrease the amount of money that it spends on itself, whilst improving staff satisfaction and productivity. That's a winning scenario for everyone: Civil Servants, taxpayers, and all those who make use of government services. You'd be hard pressed to find a graduate scheme that doesn't pale in comparison.