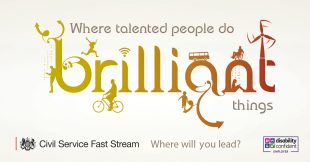 After finishing university, I struggled to find a job that both interested and challenged me, while also giving me a sense of purpose. I always knew that I wanted to work in something related to government policy, but most postings required specific experience. Disheartened, I took a position in an unrelated field, and felt that I was soon stuck in a pattern of work-home-repeat. I no longer knew what I was working towards or for.  
The Civil Service Fast Stream gave me the opportunity to pursue a career I am passionate about, one that gives me a sense of purpose. The Fast Stream application process emphasizes the importance of an individual's analytical skills, their commitment to development, and their sense of civic responsibility. It was clear from my first day that I had made the right choice in joining the Civil Service – it felt like a real community committed to public service. The fact that so many Civil Servants have had decades-long careers only underlines how fulfilling a path it can be.
I have just finished my first year as a fast streamer. My first two six-month postings were definitely interesting, challenging, and did bestow a sense of purpose. Every day, I have worked on issues that affect the lives of millions of people – from sustainable agriculture to the free movement of goods. I have represented the UK at international meetings, and helped strengthen our global relationships. It continues to amaze me when I see issues that I work on being covered in the newspaper and discussed by the public. Working in the Civil Service has instilled a real awareness of community and has challenged me to constantly think about what more I can do.
The Fast Stream does not only push you to give back more at work, but also to the wider community. First year Fast Streamers participate in a fundraising challenge, in which teams compete to raise money for a charity of their choice, either via innovative fundraising events or volunteering. This challenge gave us the opportunity to give back not only in our work but also outside our day jobs. It allowed us to espouse the values of the Civil Service inside and out of the office. My team volunteered at a food bank in Vauxhall, and I appreciated that the Civil Service facilitated our ability to go out and volunteer during working hours. This meant we were able to engage with the community surrounding Whitehall, to better see how they are affected by policies made a few blocks away, and to raise awareness of what the Civil Service is and does.
Thinking back to just over one year ago, to before I joined the Civil Service Fast Stream, I am even more grateful that I have had this opportunity. The common advice of 'do what you love' can be incredibly frustrating to hear if you are working a job you aren't passionate about, or even still trying to figure out what it is that you would love to do. For me, I only understood the importance of doing something I love once I had found a job that was interesting, challenging and meaningful.