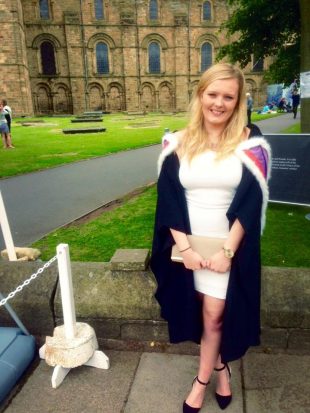 When people ask me the question 'What is the Civil Service and what does a career within it entail?', I find it difficult to summarise my answer in one word. Quite simply it is everything you would encounter in your regular daily routine, from the food you eat, to the transport you may take to work, the vaccine you had before travelling and the school that you used to attend.
Before starting on the FastStream I had not left the North East. I attended a state primary and secondary school in Durham before carrying on my studies at Durham University. Neither of my parents were University educated, and the idea of applying to such a far reaching programme was incredibly daunting. It wasn't until I entered the final year of my Biomedical degree that I gained a thorough understanding of the Civil Service and the sheer magnitude of the work that they complete and that I could become involved in.
After completing a sabbatical year as JCR President at St Mary's College, Durham University, I applied to the Faststream, with very few expectations and limited knowledge of what to expect from the application process. Within a week of attending the assessment centre I learnt I was successful on the generalist stream. However, for me a major worry was that I didn't want to relocate to London….
Variations of postings
The variation of work that a fast streamer can become involved in is incredible - my personal experience proves the sheer differences between projects that you can work on.
My first posting was in Durham working within NOMS (National Offender Management Service) where I worked on the evaluation of the provision of services for women on release from prison. I then moved to the Department for Education where I worked on the academy conversion programme and in strategic planning to create good and outstanding school places. I will be starting my secondment with NHS England in Leeds in September, where I will be working on the roll out of a project that involves the digitalisation of cancer diagnosis across Yorkshire.
Both postings provided me with challenge and responsibility, and the differences allowed me to develop upon multiple skills. This has helped me to round upon myself and to set me up for many potential future career paths I could take in the Civil Service or beyond.
The London Bubble
As a take away I think it's important to realise that lots of government building aren't based in London, and that you can still have an incredible Faststream experience outside of the London bubble. I was naïve to this and my experience has proved that this is possible – don't let location be a detriment to applying or accepting an offer.