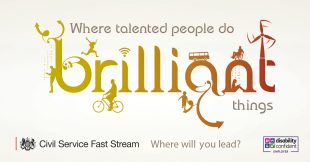 As I found out on my first day, a key part of the Fast Stream is to do more than just undertake roles in different departments. Alongside the extensive training curriculum and a variety of social occasions outside work, we also have to complete an objective during every posting that is not related to our work. For my first posting, this was 'The Fund' – a challenge to work with other first-year Fast Streamers to raise money for a charity of our choice.
The task was daunting, as I'd have to collaborate closely with a group of people who I'd never met before, and were spread throughout the UK. I also wondered how much time and effort it would be possible to put in, as we all had full-time postings to complete. As I'd just started the Fast Stream, I was reluctant to take on another task, and wanted to make sure I completed my first posting successfully.
I needn't have worried. My manager at my posting understood that Fast Streamers have other tasks to complete, so was happy to give me time away from my normal role to organise and plan events. As for the distance between members in our team, we were able to communicate effectively using online tools, and see each other regularly, often when those outside London came down for training or other work events.
My specific role in the team was as the treasurer, and having very little experience of dealing with money and finance, this gave me the chance to grasp a basic understanding of accounting and reporting. As well as that, I got involved with a variety of the events the team put on, such as a comedy night, a spoken word event, and a 10k run. The run was something that I'd never thought I'd be able to do - not being particularly active, and never having run a significant distance before. It gave me the drive to get training, and I managed to complete it successfully and in a good time.
Overall our group raised around £5,000 for charity, which is a fantastic achievement for a small group of people organising events outside work for a few months. It also gave me the opportunity to get to know many Fast Streamers, and make friends that I would not otherwise have had the opportunity to meet. As well as spending time with the group I was in, the task meant there were a huge number of events to attend, organised by other Fast Stream teams. Despite my initial reservations, I'm grateful to have had the opportunity to raise money, get to know people, and achieve personal goals. My experience shows that the Fast Stream isn't all about work – there are plenty of opportunities to get involved with other fun things too.