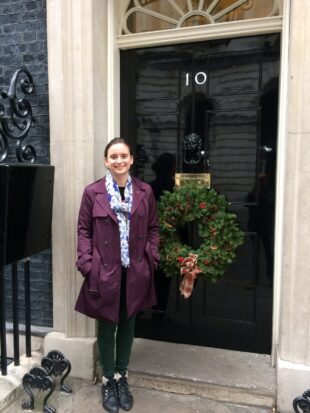 Hello, my name is Charlotte and I am coming to the end of my first year on the Finance Fast Stream as a Finance Business Partner in the Cabinet Office.
Coming in fresh from my politics degree from Durham, my first role has been a crazy learning curve. On my first day I was assigned two business units to look after and, supported by my team, learned the ins and outs of double entry whilst also getting to grips with the needs of my units! Eleven months in I am now a Business Partner for five units, completed my first half marathon to raise money for the British Red Cross, and have passed the foundation course of my accountancy qualification.
Spending a year in Cabinet Office has enabled me to experience a full financial cycle, from the planning stages where we forecast future spend in partnership with our units, to the audit process after year end. I have built strong working relationships with the units I look after, and as Business Partnering is a forward facing role, I meet regularly with my units to discuss their spend and any other issues they may be facing.  A big part of my role is enabling my units to produce accurate forecasts. For this to be achieved, we need to consider both the year to date position and any big upcoming spend.
Completing my accountancy qualification alongside my day to day role has been hugely beneficial; understanding the theory behind financial processes has helped to reinforce the practical knowledge I have developed on the job. Out of the four qualifications, I chose to study ACCA due to its global focus. I also have friends, both on and off the scheme, studying both ICAEW and CIMA. Everyone is going through similar study experiences, and aside from the occasional banter can sympathise with the pain of constant study.
I have really enjoyed being part of the wider Finance Business Partnering team in Cabinet Office, as everyone in this team has been friendly and supportive. In particular, my boss Louise has been an amazing support; she really ensured that I have developed throughout this year. I have made some great friends, with occasional trips to one of Westminster's many local pubs helping to solidify our bonds outside of work. We also took a work trip to the Government Finance and Internal Audit Conference. As well as its many talks, it was a good way to meet others in the finance profession. I even caught up with a couple of finance fast streamers I had met at induction!
I'm now off to Department of Transport in October, hopefully my second year will be as good as the first!