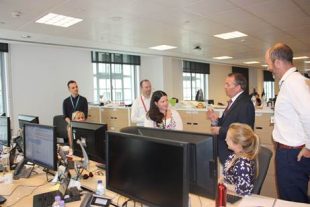 I'm a first year Fast Streamer on the generalist scheme, currently working on US trade policy at the Department for International Trade.
I came to the Fast Stream after completing my Master's degree in international law at Lancaster University. I was looking for something that would give me responsibility from the start, provide opportunities to develop my leadership skills and involve interesting and varied work. On all three points the Fast Stream has so far delivered, even in my relatively brief time on the scheme.
My first posting was as an operations manager in Ofsted's contact centre, which deals with public queries and concerns about nurseries, childminders and schools. It was something that I never anticipated doing, however the posting while challenging was a great experience. On the Fast Stream you're expected to pick things up quickly and take on a lot of responsibility from the start - but you're also supported throughout. I worked with a really friendly and diverse group of people and gained experience of managing team leaders as well as a brief time managing the entire contact centre, which consists of around 70 people. This was an opportunity that I could not have got anywhere but the Fast Stream, especially in my first six month placement.
If that seems too daunting for a first six month placement, then you're in the same boat I was before the Fast Stream. However I learned to have confidence in my abilities to lead and work in a fast paced environment, and by being given a lot of responsibility I was able to learn a lot in a short space of time, particularly as there's a range of options for support and development in the Fast Stream. My colleagues were friendly and supportive making work enjoyable, and even in a fast-paced environment I had a great work/life balance.
My second and current posting at the Department for International Trade, working on stakeholder engagement and communications in US Trade Policy team. In some ways this post provided everything I envisioned myself doing when I applied for the Fast Stream; working on a high profile project in a changing political environment and fascinating policy area. I gained a range of experience relating to government policy, analysis, communication and project management, as well as exposure to senior civil servants working on some of the most interesting and high profile projects in government today. I organised and facilitated stakeholder engagement meetings, worked closely with the team at the British Embassy in Washington, and wrote lines for Ministers to take on UK-US trade, some of which were used by the Prime Minister in a meeting with Donald Trump at the G20.
Already I've had a huge breadth of experience on the Fast Stream, and while the two areas I have covered are completely different, they have given me the skills to progress and develop as a future leader in the Civil Service, as well as an understanding of the range of opportunities available to me in the future.