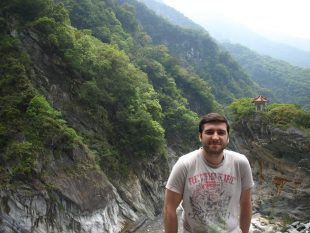 I didn't join the Fast Stream straight out of university, although not through lack of trying! I studied Arabic and Politics at Edinburgh making my first application for the Generalist Stream in my final year. I got all the way to the assessment centre but wasn't successful – ah well. After graduation, I decided to do what a lot of my friends were doing – qualify to teach English as a foreign language and head abroad. Fortunately, with most of the application process taking place online, I threw in another application the following year from downtown Changhua, Taiwan. In what appeared to be a dispiriting regression, I reached the online E-Tray exercise only to fall short again. After my teaching contract was up, I returned to London and began working as an intern for trade association, promoting UK business in the Middle East, an interesting job which I did enjoy. With no reason not to, however, I charged into the application process a third time. With two previous attempts behind me, I knew the drill pretty well, getting to the assessment centre once again. Fortunately, at last, it worked out as I passed and was assigned to the central departments starting that September.
It might be apparent from the above that I hadn't quite worked out what I wanted to do exactly. When it came to my preferences of department, other than knowing roughly what each department was responsible for, I didn't know what to expect from any particular role. In fact, when I was assigned to the Department for Work and Pensions in a policy team, I wouldn't have said that it immediately featured high on my list. What I got, though, has really changed my view – It was an excellent role to have. Interesting, complicated, and challenging, it was a great introduction to the civil service. Given serious responsibility from the out-set, it wasn't long before I was heavily involved in shaping a set of controversial regulations, getting them ready for implementation. It was exciting to read about the work I was doing in the papers on my way to the office in the morning knowing it was going to shape my tasks for the day.
I was apprehensive about moving to another post after six months having settled in at DWP and developed a good knowledge of the policy area. My next post, however, at the Ministry of Justice, was great. In a different type of role, taking a strategic approach to the department's business presented an entirely different set of challenges. What struck me was the way the team influenced material change in the way the department operated. Reading reports, articles, talking to policy officials, analysts, finance colleagues, there were great opportunities to ask questions and set about driving positive change in the justice system. It's been incredibly motivating working with people who are passionate about what they do. More than other work I've done, it is easy to see what benefits you can bring by putting the effort into your job in the civil service. Soppy positivity aside, it's genuinely good fun and I'm looking forward to my next role just as much.