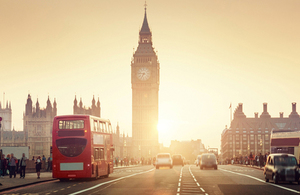 When you're a kid and you're asked what you want to be when you grown up, I've never heard anyone say "Civil Servant". But I think that this is, in part, due to a lack of understanding about what being a Civil Servant really means.
I have worked in the Civil Service for three and a half years now, and I have been on the Fast Stream for one. And I absolutely love it. There is something amazing about working every day for the benefit of the UK population: your friends, family, neighbours, and strangers on the street. Whether or not you agree with the politics of the government of the day, as a Civil Servant your job is to put your own personal, political views aside and work tirelessly to implement the vision of the democratically-elected government, as they work to make the UK a better place to live, work and visit.
A few of my personal highlights have been:
Reading about something on the news, and knowing that I helped to make it happen.

Preparing for a major international summit, then listening to my Minister read out the words I wrote in his briefing, in front of Ministers from over 50 countries.

Travelling within the UK and abroad: to conferences, to the World Trade Organisation, and to a Job Centre Plus to better understand how colleagues deliver vital services to the UK public.

Going into Parliament, and seeing the work that goes on behind-the-scenes to prepare for departmental oral questions.
On the Fast Stream programme, you regularly change placements throughout the 4 years, to enable you to develop a wide range of different skills, that will help you progress to the Senior Civil Service in an accelerated timeframe. The way the programme is structured means you have to keep on top of your core work objectives, your corporate contribution and your learning and development, but you are supported all the way through by your on-the-job line manager, your cohort leader on the Fast Stream, plus you have access to coaching and a range of other services. If you enjoy a challenge, the Fast Stream is perfect for you.
Once you graduate from the programme, there are so many possibilities. There are so many diverse roles available in the Civil Service, allowing you to change roles throughout your career, or specialise in a particular profession or department if you prefer. What I particularly love about the Civil Service is the pastoral care, the attention to work-life balance, the management structure and the focus on individual development.
The Civil Service of the 21st century is fast-paced and full-on, you must leave those clichés of Yes Minister-style bureaucracy at home. But if you want a career that is challenging, varied, well-managed and most importantly, at the heart of delivering for the UK public, then the Fast Stream is certainly for you.