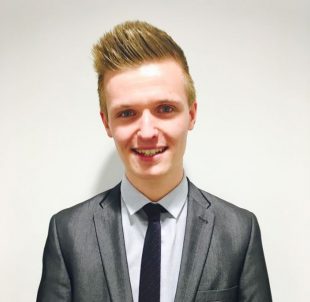 Joining the Civil Service as a member of the inaugural Project Delivery Fast Stream was an exciting prospect; I'd attended Civil Service graduate recruitment events throughout my studies at Exeter University, but as a geography graduate, I was particularly keen to utilise the project planning and delivery skills I'd developed during my experiences of fieldwork.
For my first posting, I was fortunate enough to join the private office, where I spent a year with the Army developing and delivering infrastructure projects and programmes. With no previous military experience, or real exposure to the armed forces, this was a steep but welcome learning curve which gave me the opportunity to get to grips with some of the Army's most critical and public change programmes.
From day one, it became apparent very quickly that I was joining the Army at a time of intense delivery and change. As a result, I've been fortunate enough to get exposure to project delivery in a series of Defence projects and programmes at varying stages of the programmatic lifestyle. I've developed governance mechanisms, formalised reporting chains, created supporting programme artefacts and orchestrated workshops – sometimes all in the same week – designed to keep to critical delivery timelines and deliver value for money for the taxpayer.  
I've found the Civil Service, and the private office particularly, to be a very supportive, enabling environment to begin my career; I've been able to take advantage of a plethora of learning and development opportunities, undertaking several formal project and programme qualifications to support my training and gaining practitioner accreditation in four delivery disciplines. I'm confident this will help to set me up for a fulfilling and varied career in the Civil Service going forward. I've also taken every opportunity to get out on the ground, visiting the military built estate, which has really helped to situate my learning and expose me to delivery outputs, which I would argue is absolutely essential for any project professional.
It's not just my specialist skills that have developed in this first Fast Stream post; I've been able to take advantage of several leadership opportunities, which have undoubtedly set me up well for the rest of my Fast Stream career, working with senior stakeholders from across the Army, the Defence Infrastructure Organisation and the wider Defence community.
Despite the immediate culture shock, I've really enjoyed working with the Army, because I truly believe it's given me a very unique perspective on a career in the Civil Service. On a daily basis, I've worked in a large directorate comprised of both civilian and serving military staff, which has introduced a really interesting dynamic to the delivery environment. It's also an unparalleled opportunity to work alongside the customer who you're effectively delivering change programmes to support and therefore bringing them into the process fosters a really fascinating creative tension. I've also, of course, learned a lot about military culture and the interface between central policy decisions and the lived experience of our military colleagues, which has been absolutely fascinating.