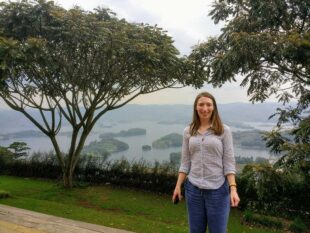 I'm writing this from a log cabin overlooking Lake Bunyonyi in Uganda with my new team at Limited Resource Teacher Training. The sun's setting over the lake, cicadas are humming and my new colleagues are playing cards. It's idyllic. Of course this isn't your typical day on the Fast Stream, but it is one of many varied and interesting experiences I've had over the past year.
In my two six month placements I've learnt a lot. At the Department of Work and Pensions. I worked with social media communications, learning about analytics, professional and operational twitter use, content creation and running events. At Her Majesty's Revenue and Customs I worked in a financial role helping to manage a multi-million pound IT budget, I learnt about making savings, commercial contracts and project management. Alongside these roles Fast Streamers have opportunities to work on 'corporate objectives'.
These are small projects that add value to government or develop your skills. Through corporate objectives I've helped to facilitate an Artificial Intelligence hackathon, raised money for the Great Ormond Street Hospital Children's Charity, and helped Camden Council evacuate their social housing following the Grenfell tower fire. My job has also allowed me to experience different places, taking me to over ten different towns and cities and allowed me to see historic government buildings not open to the public.  
Now, I've just started my third placement which is a secondment to LRTT—a private sector company run for an altruistic purpose that organises training for teachers in developing countries. It's an exciting role. Aside from two weeks in Uganda with my team, I will be able to shape my role to fit my interests, see a very different culture than government and make connections around the world. Other Fast Streamers I know have also had great secondments in roles with charities (The Prince's Trust), private sector (BAE) and arm's length government bodies (local councils).
The variety of experiences on the Fast Stream is one the schemes key strengths. The first two years of six month placements with a secondment option means that you work lots of different roles in a short space of time. That mixed with the interesting work in government and the multitude of other events and projects you can choose to get involved in make the Fast Stream a great way to have diverse and stimulating work.