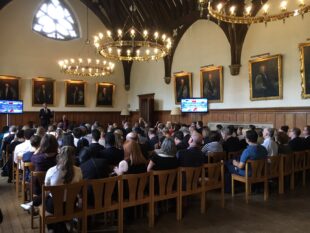 I worked in the Resettlement, Asylum Support and Integration Directorate at the Home Office. Part of a wider tripartite programme consisting of the Departments for International Development and Communities and Local Government, our responsibilities focused on resettling the most vulnerable refugees from Syria, the Middle East and North Africa. I was working specifically on Community Sponsorship of refugees.
Community Sponsorship was announced by the Prime Minister (then Home Secretary) in October 2015, and launched by the current Home Secretary and Archbishop of Canterbury in July 2016. It is based on the Canadian Private Sponsorship Model and aims to enable community groups to resettle refugees. I joined the team at a crucial time, in the run up to the one-year anniversary of the scheme. I was primarily responsible for developing the infrastructure to build the capacity of the scheme to more effectively support community groups to become community sponsors.
One particularly rewarding experience during my time with the Directorate was delivering a number of UK-wide Roadshows to promote Community Sponsorship. These featured a high level Canadian delegation including the Canadian Minister of Immigration, Refugees and Citizenship, Hon Ahmed Hussen, the Canadian High Commissioner, Janice Charette, His Worship Mayor David Henderson of Brockville, Ontario and Jennifer Bond from the Global Refugee Sponsorship Initiative. A number of other high profile individuals also attended the events including the Brandon Lewis MP, Immigration Minister; Baroness Williams of Trafford, Minister of State at the Home Office; Marvin Rees, Mayor of Bristol; the Bishop of Southwark; and Mark Thomson, Director General UK Visas and Immigration.
I was initially responsible for planning and delivering the roadshows which involved liaising with the Canadian delegation as well as civil society stakeholders in the UK. We held events with partners in Kingston, Lambeth, Manchester, Bristol, Birmingham and Aberystwyth — with each roadshow featuring presentations, panel discussions and workshops aiming to harness the appetite of civil society to help resettle refugees from the conflict they face in the MENA region. The highlight of the roadshows for me was the announcement by the Home Secretary of an additional £1m extra funding for the training and support of community groups that want to become community sponsors.
It was extremely rewarding to see was the strong desire from civil society to get involved with the scheme – over 500 people came to events during the week. It was also amazing to feature some of our successful sponsor groups and resettled refugees to show that community sponsorship works. The lives of refugees have truly been transformed through community groups who draw together people from different backgrounds to provide welcome to these families. This 'whole of society' approach to resettlement promoted through Community Sponsorship is really transformative; it has positives for integration — particularly around interfaith collaboration, and delivers Value for Money.