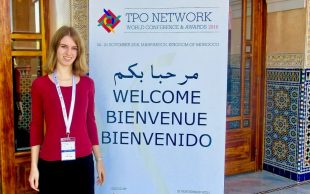 I studied Arabic at university, and having spent a fascinating Year Abroad in the Middle East immersed in politics and human rights issues, I knew that I wanted to pursue a career at the heart of current affairs. My eventual plan is to work in government on international issues, but I first wanted to gain a broad base of experience right across the Civil Service, so applying for the Generalist scheme made perfect sense.
My first placement was at the Department for International Trade with the E-Exporting Programme, which works with e-marketplaces like Amazon, Newegg and Rakuten to help British businesses sell online overseas. During a busy 6 months as Programme Manager, I helped to oversee the launch and management of our new online tool, working closely with the department's digital team and our international e-marketplace partners. As my first job after graduation, I found this a brilliant introduction to life in the Civil Service and the excitement of working in Whitehall.
Three months into the role, I was also given the chance to represent the department abroad, joining my manager at the Trade Promotion Organisation Network World Conference in Marrakech, which saw delegates from 70 countries and around 300 organisations come together to share knowledge and ideas on the future of trade. The conference hosted a series of speeches and panel sessions on subjects ranging from digital transformation to the rise of Africa – I found it especially interesting to hear how other governments approached challenges similar to those we had encountered. The visit was a fantastic opportunity to network with senior officials from around the world, and even gave me a chance to put my Arabic interpreting skills to good use!
For my second placement, I was posted to the Strategic Communications team at the Department for Work and Pensions. I was fascinated by the different perspective offered by working in a huge department like DWP, with its vast operational side and wide-ranging policies, which have a tangible impact on the lives of everyone in the UK. The role gave me an in-depth introduction to the fast-paced world of government communications and campaigns – from working with a team advising on media and communications surrounding the launch of a government document, to managing an employer-focused research project with an external agency, and leading on shaping the future strategy for DWP's 'See Potential' campaign. I also volunteered to get involved with the Communications Directorate's post-election planning work – a chance to watch the unfolding general election from close up, and a great insight into how civil servants need to be flexible and prepared to adapt to changing political realities at a moment's notice.
I have absolutely loved my first year on the Fast Stream, and can't wait to see where my next posting will take me. It is a stretching and hugely rewarding programme, offering significant responsibility from the outset, and I would highly recommend it to anyone thinking of applying.