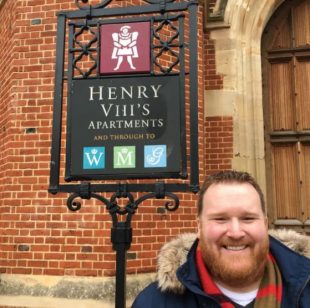 The most typical thing about my journey to the Fast stream is for me to say I'm not a typical Fast Streamer.  That doesn't exist anymore.  So how did I get here?
I was working as a supermarket manager in one of the Big Four retailers, where I had been for the previous eighteen years.  I started when I was sixteen and used it as a means to fund sixth form and university, for my history degree, and then sort of fell into management at the age of 22.  The job was varied and interesting – I led teams of up to 150 people, and worked in stores all over the country, but the hours were unsociable, and I was never passionate about retail.  However, I'd met a girl, got married, bought a house, and was coasting through life.  Then I finally asked myself: why am I spending most of my time doing a job which I am not passionate about?
So I thought about the things that have always interested me – politics, current affairs, history – and also the skills I had – there's a maths A-Level somewhere in my ancient history, and set about looking at jobs I could do.  I'd never heard of the Fast Stream, but discovered it whilst searching for graduate jobs suitable for career changers.  I was drawn to the Finance Fast Stream, as the chance to get a professional qualification appealed to me as something tangible I could achieve in changing direction in life.
So I had the BIG chat with my wife, about taking a pay cut, the prospect of relocating and totally changing our lives, and decided to go for it.  That was November 2015, right at the end of the application window.  By July I'd found out I was relocating to London to take up my first yearlong posting, in the Government Internal Audit Agency.  In September I started.
The job is everything I could have wanted it to be.  From the very beginning, I was given exposure to people at the highest levels of the organisations I worked with.  I even got into Number 10 for one of the audits I was completing.  That was a strange journey – from stacking melons to interviewing the private secretary to the Prime Minister in the space of four months!
As well as this, I'm progressing through my studies to become a chartered accountant.  I'm taking the ICAEW ACA qualification, and have passed the first level of exams within the first year.  Going back to college after over a decade without exams has been a shock to the system, but it has been very interesting to learn new skills, and do things I thought I'd not get the opportunity to do again.
And I've been supported at every stage.  The Finance Fast Stream allows block release for college, and flexible working means I get the chance to work from home once a week.  This is great, as I'm relocated from my wife, and travelling back and fore London and Cardiff can sometimes be difficult.  Having an extra day at home really allows me to balance work and home life.
I'm now about to start my second placement, working in the Brexit team in HMRC and cannot wait.  The work I'm now doing is so much more interesting and rewarding than my previous career, and the opportunities that will become available with the skills I'll develop by the end of the posting will be enormous.
If you're looking for a change to do something that rewards ambition, supports your lifestyle and satisfies a curious nature, then this is the place for you.