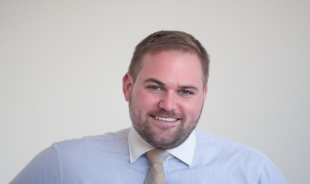 Craig Howarth - Fast Stream Senior Marketing Strategist 
The polite Mary Berry Lookalike guided me gently by the elbow through the spacious corridor and into a room without a handle on the door.
"You're in Room number 20 Mr Howarth" she said before whispering with guilty but gleeful indiscretion, "It's Amy Winehouse's old room".
In September of 2016 I was admitted to the Priory Hospital in North London for what was described as an indeterminate stay. The Mary Berry lookalike, a hospital admissions officer, was one of dozens of concerned but kindly faces I had seen in frenzied succession that week. Paramedics, trauma nurses, doctors, psychiatrists, Mental Health Crisis workers, and friends.
My life to outsiders looked like a rosy one. I had a rewarding and creative job in the civil service, a successful partner, a beautiful home in a smart part of town, and a good circle of friends. So how on earth did I end up in a mental facility having tried, very nearly successfully, to end my own life?
Like many people who develop a mental health illness at some point (statistically it will be most of us) I had a lot of unresolved issues, traumas and anxieties that had built up into an unhealthy narrative that I grew to believe about myself. For many years I believed I could think my way out of complex issues and problems. But I was wrong.
When a person becomes mentally unwell they can often revert into non-cognitive or emotional patterns of thought. This is where our emotions take over from our reason in shaping how we view ourselves and the world around us.
Over a period of years I had fallen into a pattern of dangerously unhealthy, emotionally driven thinking. I believed that I needed to be perfect in all that I did. I needed to be a perfect partner, a perfect son, a perfect marketing strategist. Each time I fell short in even a small way it fed the narrative that I was a failure.
My emotional CV began to look something like this
All or nothing thinking – If it's not perfect I've failed
Over generalising – Seeing a pattern based on a single event
Disqualifying the positive – Discounting the good things and beating myself up about the bad
Jumping to conclusions - Always imagining I knew what others were thinking
Personalisation – Blaming myself for things that weren't my fault
Catastrophising – Blowing things out of proportion
Emotional reasoning – Assuming that because I feel a certain way it must be true
In the space that this blog affords me I can't cover everything that I learned in my 7 weeks of intensive mixed therapy. But what I want to share most is this: mental illness is not a lifestyle choice, it is not an abdication of personal responsibility and it is not a concession to weakness.
I was in the priory with multi-millionaire company owners, hedge fund managers, leading academics, and musicians.  High performing, gifted people with so much to offer the world and who, like me, had finally had the good sense to get the help needed.
We had all found the strength to admit first to ourselves and secondly to others that our facades and even in some cases our foundations were crumbling and we needed some serious restoration.
It is now about 4 months since I left the priory and I have resumed my role as Senior Marketing Strategist for Fast Stream and Fast Track. I am not yet in a position to say that I am no longer suffering with a mental illness. I have some really rough days, and I fight a daily battle not to succumb to old and unhelpful ways of thinking. But on the whole my capacity to cope with the daily knocks and set backs of life is better than it has been in many years.
When people ask how I am doing I resist the urge to always tell them what I think they want to hear. I let people in a bit, and I tell them if I am struggling a little, if I had a bad night, or if I am feeling overwhelmed. What has amazed me is how willing other people are to share their own experiences once you open up a little to them.
I have an incredibly supportive management team who have shown genuine compassion and kindness. My Grade 6 in particular was a real cornerstone in my recovery, and is not named here solely to spare her blushes. She combined empathy with a good dose of civil service pragmatism in coming up with practical ways to bolster me during my recovery and return to work.
As a manager I have not hidden my struggles from my team and from my wider business area. I have found that my team relate to me better knowing that I am willing to accept being human, fallible and at times even fragile. Will this impact my career in some way in the future? I don't know. What I do know is that we are all responsible for creating the Civil Service we want to work in, and I choose to work in one where mental illness is not stigmatised or shameful. I am grateful that so many of my colleagues are choosing the same path.