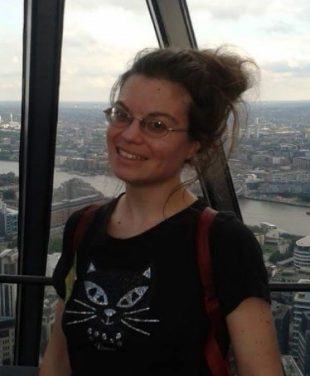 Cecilia Da Forno, Fast Stream Cohort Leader, London
If you had told me a few of years ago that I would be talking about mental health as part of my job, you may have elicited a disbelieving smile.
Yet here I am, writing a pretty personal (and not at all pretty) piece on depression, suicidal thoughts and what brought me to where I am today. I've got some of the heavy stuff out at the way, so if you are looking for a soft fluffy story, think again or stop reading.
I'm not sure why or even when I first became depressed. For the longest time I thought that being unable to point to a specific event or even a negative aspect of my life meant I had no reason to feel the way I did and I was being an entitled, spoilt and dissatisfied brat. Life wasn't anything out of the ordinary, I grew up in a loving family, had a great education and an OK professional life.
I mostly avoided Monday morning conversations at work. For more time than I can care remember, my honest answer to 'What did you do at the weekend?' would have been 'I cried and thought up elaborate ways to kill myself'. I wish I had felt comfortable enough to be much more open with my ex-colleagues in the private sector, they might have offered me support if I had given them (and myself) the chance.
This is why I am now so passionate and some might say intense about playing my part in ensuring we remain as supportive and open as I have found it be in my first few months here in CSHR.
I work in the Fast Stream and Early Talent team (FSET) and would like to make the Fast Stream a programme where anyone struggling with mental health issues can genuinely be well supported and thrive.
Working with the FSET mental health champions we ran a focus group with centrally managed Fast Streamers across all departments in London and in the regions to explore how we could increase awareness of mental health issues. As a result, we are now working to upskill cohort leaders and Fast Streamers with carefully planned courses and guidance materials.
So what helped me recover?
A psychiatrist who listened and treated me like a partner in the healing process despite my mind being torn to shreds
My friends, although many did not know about my depression until I was much better again
A job in which I had to function as this gave me a some stability
Being kinder to myself and
Time
There was nothing positive about my years with depression but I have learnt how fragile life can be. I wish I could have understood my life, my sense of identity, my insecurities in a less painful way but these clichés become suddenly meaningful when you have experienced their truth in such dark desperate times.
I might spin into a deep, dark space in my head at any point, which is why I really am grateful for the life I have now and a sentimental reflection has slipped in after all!
I still don't find it easy to write about my experiences, mainly because I worry that after reading this piece my colleagues and others will stop relating to me as a person and just see the potential depression instead. However, I think this is a risk worth taking if more Fast Streamers and colleagues trust those around them enough to ask for help when they need it.
And, if I smile and look happy, it is probably because I am, so try and see me, in all my weird and (possibly) annoying glory, not just a label.
If you'd like to talk to someone or feel you need help
Talk to the Samaritans
Mind
Tell someone you trust
Talk to your GP