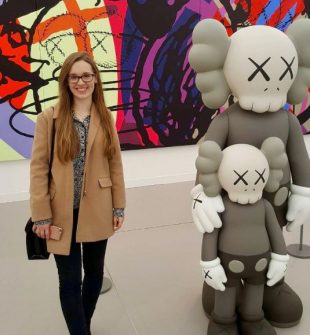 Hello, I'm Sophie and now in my second year of the Finance Fast Stream. I studied Natural Sciences at university: the majority in Physics, with a dash of Earth Sciences and English Literature for good measure! I wanted a career where I could use a range of skills and get involved in a wide spectrum of areas and see the positive impacts of my work. For this reason, studying for my qualification while working in public sector finance sounded much more rewarding than a standard accountancy firm.
My first posting was at the Department for Work and Pensions in Leeds. When I received my posting to say I was working on the Financial Assurance and Control Team I was a little apprehensive – at this point I knew nothing about finance, let alone assurance and control! I needn't have worried, as the team were wonderfully supportive from the day I arrived and more than happy to answer my questions about DWP, finance and the Civil Service in general.
While I had expected to spend most of my days behind a computer screen scrolling through Excel spreadsheets... that wasn't even half of how I spent my time. I got given so much responsibility at an early stage.
I co-hosted Finance Budget Masterclasses for Senior Civil Servants: presenting on key financial controls, where DWP gets authority to spend and on what their financial roles and responsibilities are.
I developed a training product now hosted on the Government Finance Academy's website to up-skill requisitioners (people who create and monitor purchase orders to buy goods/services) across the whole of government. There are thousands of requisitioners in DWP alone so the impact of this is huge.
I tested financial controls, spoke to senior stakeholders to understand departmental processes and wrote reports on my findings that went directly to the Finance Director General. All of this is contributing to the main goal of DWP – as with stronger financial control we can monitor our finances more carefully and wisely, ultimately delivering our welfare and pensions services better for our customers.
For my second posting I've been given a change of scenery - literally! I am now based in London's Hyde Park working for The Royal Parks (so lunch breaks in summer will be amazing). Going from an organisation with 80,000+ employees to a charity with around 120 members of staff has been a huge change. Instead of talking about new welfare benefits we talk about planting wildflowers, planning Frieze Art Fair (pictured) and organising this years' Winter Wonderland event!
But at the end of the day the goal for finance remains to deliver value for money and to be at the heart of decision making. I now work closely with the Director of Resources and Head of Finance on financial planning and strategy which is a new area for me. I wouldn't get such an interesting and varied experience in finance anywhere else so early on in my career, and for this reason I would recommend the Fast Stream to anyone!