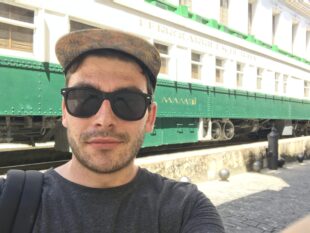 Having graduated a few years ago, I am new to the fast stream but not to the world of work. I joined the civil service in 2016 and have loved the experience so far. Leaving the private sector behind has not been hard, profit making has been replaced with public service, while working in a brilliant team. I have spent a year working within finance at the Department for Transport – which massively exceeded my initial expectations.
When the last thing you read on trains was "Thomas the Tank Engine", you wonder how you are going to fit in. But I have been working on exciting projects, such as HS2 – which is very high profile and on course to transform the country.  I have also worked on some of the most complex financing and budgeting challenges within Rail – a subject all my friends and family have an opinion on. I often receive messages when someone I know is waiting for a green signal! A reminder of how the work you do has such a wide reaching effect.
Being lectured at Christmas about the country's problems by family and friends, and then describing the interesting and important work you perform is just one element of the fast stream. But for me there is something else that makes it the right job for me.
While the fast stream provided an opportunity to pursue a career aspiration – to be a civil servant - it also allowed me to train in a new area, finance. As a political consultant previously I had built a good understanding of government, parliament and the policy making process. I was keen to gain something from a new experience and the opportunity to work and study with the fast stream was too good to turn down. I was determined to build new skills and the civil service has supported my progress in gaining globally recognised qualifications. As a humanities graduate I have started from scratch but see the benefits of the combination of my currents skills with the new.
I am studying towards the full CIMA qualification, and have received a great deal of support and encouragement from colleagues inside and outside of the fast stream. While the exams are challenging, I am confident with continued support I can reach my goal of qualifying.
The formal finance training I undertake – from being on a specialist scheme – is only one aspect of the training programme. The fast stream is about leadership, and well rounded leaders need a variety of skills and a LOT of training! The experience and opportunity of developing your skills is a unique selling point of the fast stream and not one to be underestimated. In a short space of time I already feel as though I have developed significantly and begun to fulfill my potential – even if my friends and family question why I haven't solved all the countries' transport issues yet!