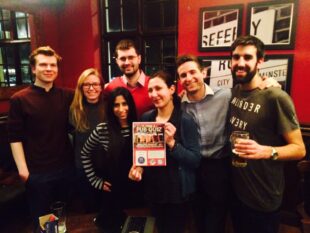 It's often said that the Fast Stream is for people who are going places. After a year, I can certainly say that's true. It turns out those places are Leeds, Sheffield, Croydon, Salford, maybe Newcastle, or even Glasgow. As a Finance Fast Streamer, the places we travel to can sometimes seem a little prosaic compared to the jet-setting trips of our fellow trainee accountants at college on comparable graduate schemes in the private sector. My laptop isn't quite as shiny as theirs, and there are certainly no big drinks events courtesy of the company.
The fact of the matter is, when it's taxpayers' money being spent, everyone has to be sensible – that's why the Civil Service consistently chooses to invest in training and support for Fast Streamers rather than flashy perks. But, really, the Fast Stream is for people who want something more than a posh office with a coffee machine that does four kinds of latte.
From Day 1 on the Fast Stream, you can actually make a difference. Straight away you become an integral part of a team that is doing important work that changes people's lives. Of course, the key to making a difference is being given the independence and responsibility to do so. In my first week on the Finance Fast Stream, while posted to the Department for Work and Pensions, I was given a multi-million pound budget to manage and forecast and began contributing to the Senior Leadership Team meetings within that area. With absolutely no experience in finance, that was quite the learning curve! It was a little scary, but I was able to handle it and, ultimately, the budget I looked after and the decisions made in those meetings made sure that vulnerable people all over the UK received their benefits on time.
Of course, there are perks to the job. If you're interested in politics and current affairs the chances are that you'll work on something you've heard about in the news, maybe something controversial, and you may occasionally go to Downing Street or the Houses Parliament, either supporting a Minister or to attend a Fast Stream event.
The other major perk is the people you'll meet. When joining the Fast Stream, you'll join a community of ambitious, talented people who are driven to succeed and united by their desire to have a positive impact on the world. I've met some fantastic people through the Fast Stream – and I don't mean that in a "networking" sense, I mean genuinely great people who care passionately about what they're doing. That's what the Fast Stream is all about. Brilliant people who want to do something a bit different.
When I think about what I've done so far in the world of work, I can honestly say that I have made a difference. And, for me, that has made all the difference.