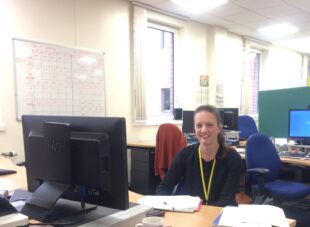 Monday
Monday morning found me killing time with a cup of tea in the train station, nervously watching the clock and wondering what the day would have in store. I'd spent the last decade working in various universities. I'd be less nervous facing day 1 in an university role because I'd know roughly what to expect; meeting the team, admin and lots of reading. As it happened, day 1 in the civil service turned out to be much the same…. The biggest difference was the size of the room. In my previous job, people would complain about being in a room with four others, but here there were 50+ desks and the room echoed with phone-calls, presentations, chats that I quickly learnt to tune out. Most importantly I was shown where to find the tea!
Tuesday
I worked through emails, induction material, and arranged chats over the next few weeks with the Grade 7 team leaders in the division. Apparently I was ahead of the game getting IT on my first day! Notable, was my first stand-up, with the departmental chief analyst. As the name implies, this consisted of all the analytical staff standing in the break-out area whilst he told us about the work he had been involved with recently. Luckily he's a great public speaker as we were standing for a while!
Wednesday
It was my Activity manager's non-working day. I'd been left with my reading list and my first bit of analytical work to get my teeth into; quality assuring an upcoming statistical publication. This involved working through a spreadsheet to make sure there were no errors and then checking every number and figure that had made it into the draft. It was interesting to see how carefully everything was checked to make sure the publication was accurate.
Thursday
My first trip to London, going to a departmental analytical induction event. This was a great opportunity to meet other new starters and find out more about the department and the different analytical professions.
Friday
Another day out the office. A site visit had been arranged by some people in another team, but a last minute cancellation meant a place passed to me. This was interesting to see the operations side of the department's work and also to spend some time out the office with new colleagues. We had a train home booked for mid-afternoon and I had been concerned about making sure I brought some reading to do, but my activity manager had told me to use the time to network. This was therefore a welcome end to my first week drinking tea, eating chocolate and having a chat on the train!