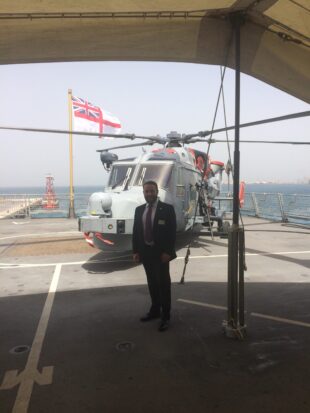 I stumbled across the Fast Stream by accident whilst looking at various grad schemes after graduating from University the year before. I didn't know what I wanted to do and the variety of the Fast Stream appealed to me. Since being on the scheme I have definitely had experiences I never expected.
My first posting was at DEFRA working on the UK Air Quality strategy and the 25 Year Environment Plan. This was great as I studied Environmental Sustainability at University and already having an interest in the subject matter made learning how the Civil Service works a lot easier. A highlight of this posting was supporting a Minister in a Westminster Hall debate and seeing them read a speech I had written which was a slightly surreal experience.
My second posting has been something completely different….
I am currently working in DIT in the Defence and Security Organisation (DSO). Here I work closely with industry to promote UK defence and security equipment overseas and I was given responsibility for the key markets of Saudi Arabia and Bahrain. On a daily basis I am working with senior UK military and foreign embassies. The bizarre experience in this posting has been taking a variety of UK defence companies to Saudi Arabia to use a Type 45 destroyer to promote UK companies directly to seniors in the Saudi Navy, at 41 degrees C in a dust storm the weather was a slight issue.
Seeing what I have been working on in the news on a daily basis has reinforced that what I have been doing in my first two posting is important if not controversial.
At the end of September I will again be going into something I would never have expected. I will be going on secondment to Wolverhampton Council to work on finance, of which I have zero experience. I have never even been to Wolverhampton! This will definitely be a challenge but the experience I will gain from this will be incredibly valuable in the long run.
Whilst on the Fast Stream I have managed to maintain my main hobby, Rugby. During my time on the scheme I was awarded a semi-professional rugby contract with the team I have played for since I was 7 years old. The flexible nature of working for the Civil Service has meant I have been able to work hours that have allowed me to attend training sessions and still have a life outside of work.
I love variety and so far I have definitely experienced just that!