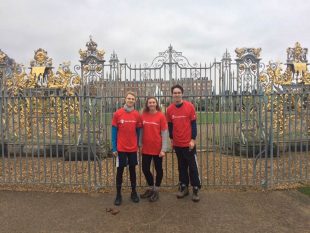 Hi, I'm Emma.
Firstly, a little introduction for those of you who haven't heard of the Fast Stream. It's a graduate scheme which consists of four 6 month placements followed by 2 year long placements across government departments (for most schemes).
Of course, since you're reading this, you'd like to know all about me, right? (Play along. Or if you're really not in the mood, tips to pass the assessment centre are at the bottom. You're welcome.)
So far, I've worked on a strategy to move HMRC employees across the UK, and on the British Pharmacopoeia, a well known book of medicinal standards. Next, I'll be moving onto EU exit strategy with the Department for Transport.
I grew up in the lovely countryside of Nottinghamshire, famous for Robin Hood and for only having 1 bus that goes anywhere people like to visit. I went to university in York, where I realised I had no idea what I wanted to do with my life – but I did want to try and new things, and if possible, to do a job that felt worthwhile.
I joined the Fast Stream straight out of university, and so far my learning can be summarised in a small list:
It doesn't matter if you don't know what you're doing - smile, keep going, and one day you'll surprise yourself by understanding around 8 words out of 10

Enjoy the fact that you sometimes can't tell people every aspect of what you're working on by convincing at least 1 friend that you're a spy

Be passionate about what you believe in, because passion belongs in government – what other job needs it more?

Buy a cat early on and try to use it as a relocation restriction, ensuring you can stay in the location of your choice – "because Mittens neeeeeds me – and she'll get lost if I move house!" (results are varied but I've heard of at least one success)
Throughout the Fast Stream you'll do things you're really proud of and things you didn't know you could, you'll learn from the inside about the things that grace the cover of the daily mail (did someone say BREXIT?) and even if you spend 4 years doing the weirdest jobs in government, you'll come out with a range of experience across sectors that means you have a great start at getting into the career of your choice.
The Fast Stream is a place for everyone who wants to make a difference to people, and it doesn't matter about anything else – so what are you waiting for?
PS: A note on the application process – it's weird. It's long. It involves laughing hysterically at impossible maths questions, and screaming at your parents for accidentally walking in with shopping in the middle of a timed exam. But no matter how badly you think you're doing, it's worth it in the end… even if only because an application will never seem so daunting again!
Tips to passing the assessment centre:
My interviewer adopted a poker face and refused to laugh at any of my awkward jokes. Don't let 'em get you down!

In the group exercise, be nice to everyone. It's basically a 'be nice' test.

In the written exercise, any argument goes – and you can just use common sense.