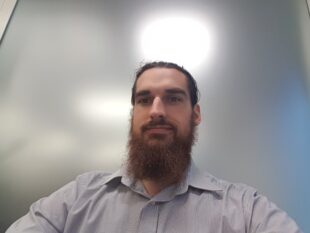 Hello there! I'm Rob Best. I joined the Civil Service Fast Stream on the Digital and Technology scheme in October 2016.
Joining government was a big change for me. I graduated from the University of Aberdeen in 2012 and between then and joining the Fast Stream I worked as a sales assistant, a bar & kitchen associate for the venerable JD Wetherspoons and as a security guard for G4S. I had never worked in an office before and adjusting to the new work environment took some time. A lot of my colleagues in the Fast Stream were either straight out of university or had several years' experience doing "proper jobs". At first I found this a little intimidating (and hearing people referring to their "proper jobs" always sets my teeth grinding) but I soon realised that this diversity of experience is a huge benefit to the scheme and to people on it. One of the greatest assets for fast streamers is the "hive mind". If you ever feel uncertain you can put a question out to the Facebook or WhatsApp groups and you'll find an inclusive community very quick to offer help and assistance.
I lived in Edinburgh before joining the Fast Stream. I was promptly relocated to Newcastle Upon Tyne. I loved it. The Fast Stream's capacity to offer new opportunities and additional perspectives is fantastic. The opportunity to live and work in different areas of the UK is so enriching it can't be conveyed in a quick blog. If you get the opportunity to relocate, embrace it and make the most of it. The job itself was with the Department for Work and Pensions, I was on a team that looked after some of the old computer systems underpinning disability benefits. The DWP software estate is huge and many parts of it tie into other parts. If you want to change one part you can impact upon everything it ties into (and potentially everything those things tie into).
My second post moved me on again, I've been living in the Big Smoke since then. I've been working in Data Protection and Information Security for the Department for Transport. It's been a very different experience but a great one. If you've never lived in London (like me) it can be a big, imposing place but there is just so much on offer here that whatever your tastes you can find communities and activities to suit your needs.
I'm just about to move post again (though staying in London) and I'm very excited. I've opted to do a secondment for a charity. This is a great part of the scheme where you can broaden your experience even further by seeing how business gets done outside of government. I'm going to be overseeing the development of a new website and managing the charity's social media campaign. I can't wait to get stuck in!