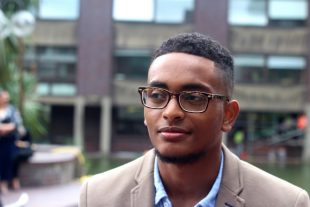 My journey to the Civil Service Fast Stream is complicated. I spent six years doing a three year bachelor's degree in Religion, Philosophy & Ethics at King's College London. Due to mitigating circumstances, not only did it take me six years to complete my degree, it also took me more than one attempt to get on the Fast Stream. Looking back, I'm glad I didn't give up, and pursued my goal. I always believed in leaving some sort of legacy and imprinting a positive mark on the world we live in, but I couldn't find a job that would allow me to do that and exercise that level of passion. Once I read into the variety of roles the Fast Stream offered, and how much of an impact I could have on everyday people's lives, I was sold.
The next step was the strenuous application process. It was challenging to say the least, and I guess that was the point. It definitely made the result that much sweeter. Trust me; once you get the confirmation that you've been accepted, you'll be reminded at every opportunity, just how much of an achievement it is to be on the Fast Stream. I would advise anyone who is applying to remain mentally strong, and to have a real passion and purpose for applying because without those two components you will find the process unbearable.
I chose the Project Delivery Stream because I've always been involved in projects in some way, and it is something I quite simply love. Whether that's being the eldest of five kids in a single parent family, or being involved in raising £40,000 for a rehabilitation centre in Jordan for Syrian refugees, I feel I am at my best when I'm delivering a project that will impact the lives of others.
Now that I am working as a project manager in BEIS within such a pivotal division; the EU Exit Strategy team, I feel privileged and glad that I chose the Project Delivery scheme. When you combine that with the fact that those involved in the Fast Stream team are really invested in your development, and they care about your career, you really feel at home even before you start your first posting. The welcome day was particularly helpful to get a taste of what the future has in store, and the induction was a great opportunity for Fast Streamers to get to know one another and understand the civil service a bit more. I'm glad to say that I have a great team for my first posting at BEIS, and everyone has really made an effort in making me feel like a valuable team member. The scheme as a whole has definitely made me feel valued as a professional, and I hope to contribute in return and make a real change.