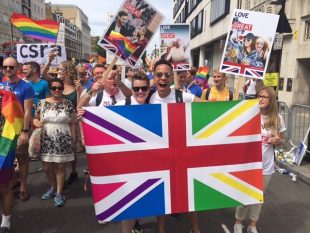 Flora Robertson (Year 1 fast streamer) spoke to Mothusi Turner about his experiences of the Fast Stream and setting up the LGBT+ network in the Department for International Trade. Mo joined the Fast Stream in 2014 after graduating with a degree in geography and a Masters in Chinese studies. He successfully completed his end of Fast Stream assessment earlier this year and is now working as the Head of China Trade Policy in the Department for International Trade.
What's your view on the Fast Stream application process?
One of the great things about the recruitment process is that it is blind to your personal background and characteristics, so you are purely assessed on competencies and not on where you studied, your gender, age or personal preferences. This information is anonymised to ensure that the process is fair and unbiased. This means that when you get through it, you know you deserve to be there based on your own abilities.
What was your experience of the Fast Stream?
No matter what your background, the Fast Stream offers you lots of opportunities to develop skills through a number of different roles. I came in with limited work experience but my time on the Fast Stream has increased my confidence across the civil service competencies. I worked on things that I'd never given much thought to, like procurement and operational delivery. I know that the well-rounded experience I've had will be very helpful in my future career.
How do you think the civil service does on diversity and inclusion?
The civil service is at the forefront on diversity and inclusion in the workplace and I've been impressed that it practises what it preaches in a way you don't always see in other sectors. Flexible working makes it possible balance life and work or to work remotely so you can fit your job around other things, for example caring for children or living far from the office. Diversity is promoted from the top down, which makes everyone feel welcomed and empowered. There is still more work to be done, but it's very encouraging to see how engaged the civil service leadership is in this agenda.
Why did you set up a LGBT+ network in your department?
It's very important to me that everyone feels like they can bring their whole self to work. It is not okay for anyone to feel like they can't talk about their personal preferences or their disability at work for fear of being judged. That's why I put myself forward (with a colleague) to set up the LGBT+ network in the Department for International Trade. It's a new department so we started from scratch. This provided the opportunity to establish a network that is really forward-leaning and proactive. Our ambition is for the department to be benchmarked by Stonewall as one of the best Whitehall employers in terms of diversity and inclusion. It is been very exciting and we were overwhelmed by the support we received from senior colleagues. Thanks to the work that the network has been doing, there are lots of visible signs that the department is an inclusive workplace. For example, our permanent secretary spoke at the launch of our LGBT+ network, our senior leaders wear rainbow lanyards, and our director general gave up part of his weekend to join us at this year's London Pride Parade.  It gives me pride to work for such an inclusive department.