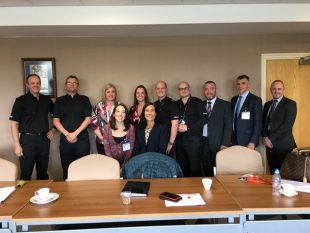 As someone who thrives on variety, one of the great draws of the Fast Stream was the chance to experience different areas of government: different departments, a secondment outside of government, and varied types of work including policy, operational and corporate roles. This expectation has certainly been met by my first year on the Generalist scheme.
My first post was a policy role at the Department for Work and Pensions, in welfare reform. I got to do all of the exciting aspects of a traditional policy role – working on legislation, briefing Ministers, attending debates in Parliament, engaging charities and academics to inform policy – as well as some more unusual experiences – presenting a policy to a panel of external social policy experts, the Social Security Advisory Committee, and working with my team to prepare for a judicial review and attend the hearing at the High Court. Additionally, I gained broader experience of DWP's work, by visiting regional offices and Job Centres to spend time with front-line staff and customers, and by working with DWP's digital developers to see how Universal Credit is being built.
My second post has been no less varied. Working at an arms length body of the Home Office that inspects the police, fire and rescue services, my stand-out experience was the opportunity to visit both Essex and Lancashire police forces, spending a week with the former to inspect them. This involved interviews with officers of all ranks, from police constables to the senior officer team, and reality testing, unannounced drop-in visits to police stations or teams like the forces control centre, where they receive and process emergency calls from the public. It was a brilliant experience that deepened my understanding of policing and the vital work that forces do.
The civil service also give you a number of days per year to volunteer, a fantastic chance to step away from work and do something rewarding in a different sphere. As a result, every Monday afternoon during school term-time, I leave work slightly early to tutor GCSE students in Hackney, with the charity Action Tutoring. I also mentor a sixth form student in Lewisham through Teach First Futures, and I have mentored interns on the civil services own Early and Summer Diversity Internship Programme. The chance to volunteer regularly refreshes me and leaves me more energised for the next working day.
I have also dipped my toe in the plethora of other activities on offer within the civil service: I joined the civil service choir, Etcetera, which has been an absolute joy to sing with, and have gone to some thought-provoking policy talks held at different departments, on topics ranging from feminist economics to behavioural insights research. There are civil service networks and societies for almost every demographic or interest, with no shortage of opportunities to meet people from other departments.
For someone who has changed focus several times in my relatively short career since leaving university, the manner in which you are positively encouraged to move around within the civil service is exciting. From September I will start my next posting, a secondment to a charity called Khulisa, that works with young offenders and children at risk of exclusion from school. Already, my team have planned for me to visit prisons to see their programme in action, and I look forward to the other new and varied experiences that this next step will no doubt bring.