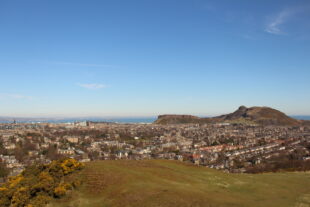 I grew up in London and, not including a brief stint at university, I have lived there all of my life. My family lives there and so do the vast majority of my friends. Safe to say I always intended to stay in or around London during my career. So when I got my place on the Civil Service Fast Stream and one of the conditions was that at least one posting would have to be done outside of London, I was a bit concerned. Wouldn't it be a huge pain to move my whole life to a new city for just 6 months? And would I even be able to make friends in a new place now that I'm not a keen fresher anymore? But I decided the risk was worth it and I'd deal with the issue later, maybe I could avoid having to leave my London safety net at all?
As I'd hoped, my first posting was based in London and when it came round to choosing options for posting 2, I thought I'd stick with my location preference as London but indicate an interest in working for a devolved Government. When the email came in a couple of months later saying that my next posting was going to be based in the Scottish Government, in Edinburgh, I was quite surprised (for some reason) and pretty apprehensive. There wasn't really anywhere I could move to that was actually further from London than Edinburgh.
Now 6 months later, my time in Edinburgh has come to an end and I'm heading back down to London for my third posting. I thought I would be excited to be back in my home city but actually I'm sad to say goodbye to such a beautiful city and so many new friends. The team I had the pleasure of working with for the last 6 months welcomed me with open arms when I first arrived, completely new to Edinburgh and not knowing anyone. Not only was I able to work on an interesting piece of work (a new Human Rights based set of Health and Social Care Standards) but I also got to explore a new city and a new country!
It's not hard to imagine why I fell in love with Edinburgh and Scotland in general. Anyone who's been there will know how beautiful it is and how friendly the people are. Being able to climb the hills 30 minutes from Edinburgh to search for Highland coos after work, go and explore the Highlands on the weekend or spend a whole month being able to experience the Edinburgh Fringe Festival was an incredible experience. And even though it wasn't all plain sailing (it actually rained for the whole of July), I'm so glad that the Fast Stream gave me the opportunity to move to such a fantastic city.  
For anyone who'd thinking 'well Edinburgh is a lovely city, what if I get moved somewhere crap', I'd say the thing I will miss most about Edinburgh is my colleagues and the friendships I made with them. As long as you have a great team, it doesn't really matter where you end up. And for anyone who is nervous to apply to the Fast Stream because of the potential consequences of being moved to a mystery new location, I hope this blog has convinced you that the Fast Stream is worth it and any relocation might even be the best 6 months of the whole scheme!